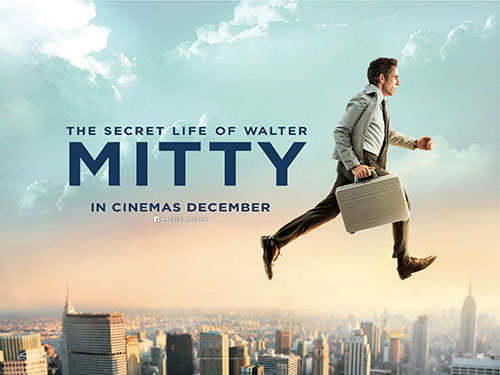 The new Forrest Gump this is not, in terms of an iconic screen character, but actor-director Ben Stiller's remake of the James Thurber classic 1947 short, The Secret Life Of Walter Mitty has some life-assessing moments, some of which you may be stirred into making. In that sense, it has a poignant and 'inspiring' legacy that rings more true in these gloomy days of austerity. Indeed, Stiller is a family favourite and guarantees a degree of endearing and modest entertainment value too.
Average, single Walter Mitty (Stiller juggling lead role as well as directing) is a hardworking stills library researcher at Life magazine who has a habit of zoning out and having fantastical daydreams. When his job is put on the line through a digital revamp of the magazine, led by ignorant hatchet man Ted Hendricks (a delightfully spiteful Adam Scott), and egged on by potential love interest and finance colleague Cheryl Melhoff (Kristen Wiig), Mitty's daydreams become reality. His quest is to find a lost negative sent in by famous photographer Sean O'Connell (a Zen Sean Penn), said to be 'the quintessence of life', that will take pride of place on the last edition of Life magazine.
This is a situation where a film's trailer sells quite a different kind of film. Indeed, to appeal to the usual Stiller audience, a degree of this is necessary. The actor is known for comedy roles and this is where any misconceptions could understandably happen. Hence, tonally, the film feels uneven, with the first half almost undermining the life-affirming sentiments of the latter and moving ending. Stiller places us in a false sense of security to begin with, with the greatest intention perhaps. He also confusingly blends fantasy and reality to the extent that Mitty's encounter with a shark feels totally implausible. This is either more expertly seamless than the original film or subversively muddled in execution (the jury's still out here).
Naturally, the most enjoyable parts of the film are where Mitty starts 'living' without fantasyland, with Stiller's rather indulgent Icelandic scenery awakening the adventurer spirit in any of us. There are moments of being at the whim of the director's own fantasies being played out (and ego to boot). Nevertheless, it's perhaps the chance of escapism to places that most will never get to and being in obscure and exciting situations that really sell the film's promise, regardless of any expectant Stiller affability.
There are also some nice if fleeting moments to savour from supporting cast members Wigg, Penn and Shirley MacLaine as Mitty's slightly scatty mother, Edna. Penn makes another snatch bid for sex symbol status as brooding, deep-thinking, creative O'Connell on a mountainside. However, it's Stiller's championing of the 'ordinary man' on a serious note that keeps things very much grounded. In addition, the film challenges the changing working landscape due to the rapid advancement of technology and human expendability, where time-consuming, artful practices are becoming obsolete that resonate the loudest here.
Walter Mitty promises a bit of everything for the family appetite this festive season, but be prepared for it altering the goalposts between comedy classic of the Stiller variety and action-drama that some might find patchy to reconcile. The danger is the detail being skimmed over in parts as you try to find its comfortable grove. That said, you do get there in the end after quite a picturesque journey, with the last scene definitely hitting home with a nostalgic and gloriously triumphant air punch.
3/5 stars
By @FilmGazer