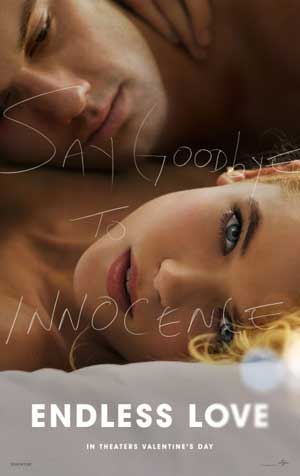 Never mind the original 1981 film starring Brooke Shields by the open fire, Endless Love (2014) rebooted peddles out the age-old issue of good girls liking bad boys. It's forbidden love for teens, like Mills & Boon sanitised. It also has two highly attractive Brit stars at its helm in Carrie's Gabriella Wilde and Beastly's Alex Pettyfer. As for anything of consequence, it's pure easy watching and inoffensive, a youth swoon fest, and cannot be taken as anything more. It ticks a Valentine's Day's girlie night out box too – and it does help if you are Pettyfer obsessed. If not, the square-jawed, mop-haired actor will get young hearts racing. Acting plays second fiddle. It's all about the looks.
Jade Butterfield (Wilde) is a studious, privileged girl who has never had any friends at school and is on her way to following in her father's footsteps and studying to become a doctor. David Elliot (Pettyfer) is a popular and charismatic student with no big plans for life. But David has always held a torch for Jade, and on the day of their graduation, their worlds collide, resulting in a forbidden and endless love that Jade's father Hugh (Bruce Greenwood) tries to put a stop to.
Pettyfer needed a pick-me-up after Beastly (2011)'s lukewarm response, and although Magic Mike (2012) reinforced his pretty boy appeal, Endless Love sends it sky high. Twihards need a new RPatz. Pettyfer just broods, pines and gets cross at certain situations; the perfect 'non-ideal boyfriend' material to daydream about is served up in dreamy David. Any acting (as such) only steps up a notch when opposite Greenwood who is quite menacing in a subtle way in this.
Pettyfer's co-star Wilde fares less well in the acting stakes and merely portrays Jade as that all-American caricature of pert, tanned blondeness and nicety that comfortably fits into all the obvious clichés this film religiously follows. Her gangly 'dance' moves further heighten the awkwardness of the whole affair, but it's the less than believable undying love that the pair has for each other that is a tad worrying. Wilde throws herself at her co-star like an excitable, licking puppy rather than a girl in heart-bursting torment. Still, Pettyfer pouts and all is forgiven for a split second. For starters, the really concerning thing is how a girl like Jade doesn't have any friends for an entire school period when her popular brother does? And how 'acceptable' David's 'stalker-ish' intentions are – the staple diet of many a romance novel it seems…
That said Endless Love serves a purpose and a storybook escape for the teen market this Valentine's Day. It totally relies on its good-looking cast and post-viewing, word-of-mouth recommendations from a growing army of Pettyfer fans (guaranteed). Its basic premise of boy meets girl, Grease style, devoid of any 'tricky' adult subjects means no parental guidance necessary for 13-year-olds+ – a chance for the oldies to grab some quality romance time perhaps?
3/5 stars
By @FilmGazer