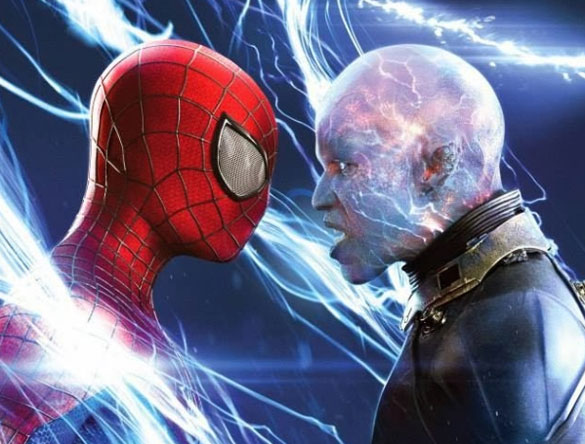 The sequel to Marc Webb's 2012 reboot was always going to be bigger, punchier and more stuffed with effects to satisfy the crowd. Thankfully, even though these qualities are abundant – in a bid to not lose out to Marvel's Avengers, some might say – the second 3D film in the series does not forget the intriguing pairing of star Andrew Garfield opposite Emma Stone. In fact, it develops their nuanced relationship as Peter Parker and Gwen Stacy further in this, still with a youthful tone that gives Peter a 'Peter Pan' vulnerability.
Juggling ruthless villains, saving bystanders, graduating, investigating his parents' untimely disappearance and a sizzling relationship with his secret Spidey identity at the best of times, Peter Parker in his alter ego of The Amazing Spider-Man is unintentionally creating and collecting more enemies with a personal grudge. Enter Electro (Jamie Foxx) and Green Goblin (Dane DeHaan), the latter once Peter's old school friend Harry Osborn, but now heir to his recently departed father's giant Osborn Corporation. Meanwhile, Peter still feels guilty about dragging Gwen into potential danger, after promising her dead father (a ghostly Denis Leary) to keep her safe and away from trouble.
Webb keeps things ticking along thrillingly in the opening scenes that are reminiscent of The Dark Knight in action-packed stunts to keep us breathless for more to come. It is a senses overload. The fate of the Parker parents is sewn up in this for those happy with some padded back-story to clear them of all abandonment charges of the crushingly sensitive Peter. But this is not the film's sticking point.
What is, is the danger of it becoming like Spider-Man 3 (2007) with too many villains in play who are thrown into the arena but never fully developed so we understand their personal transformation. Indeed, Colm Feore's scheming Donald Menken of the Osborn boardroom is thinly used just as a plot driver for the Goblin's birth, for example, in a spurious sub-plot. Even Felicity Jones's Felicia is squandered, another intriguing female character with an intriguing character arc that does not go anywhere in this.
That said Foxx's neon-glowing baddie Electro may well get his finest hour against Spider-Man but even he is side-stepped in the interest stakes by DeHaan's emerging Goblin that Electro's electrifying head-to-head finale does not burn as brightly as you would expect, and is again used as a plot driver for Gwen.
Perhaps the problem for all these surplus villains, but ironically the best aspect of the film is the powerhouse trio of Garfield, Stone and DeHaan's characters that are explored for all their faults, weaknesses and troubles that anyone else pales into insignificance. Webb does well to make the Peter-Gwen love affair more alive and tricky in this, cultivating some incredibly realistic squabbles and touchingly funny moments, as well as some harrowing ones that cements Gwen as a significant character in her own right.
It is DeHaan's gig though, whenever he is on screen, re-emphasising the actor's acting prowess, even opposite Garfield who is given ample space to take Peter on an even greater emotional ride this time. DeHaan commands the screen as the wounded and angry young heir, and his transformation into villainy is even more striking because like Electro – who gets a brief scene to 'turn anti-Spidey' in stereotypical fashion, he does not want to become a monster but is resigned to his fate. This is the crux of The Amazing Spider-Man series that all involved are 'damaged goods' trying to fit into a sense of normality, whatever that might be.
Webb fans will not be disappointed with his second film and spending 3D bucks on it, though perhaps a tad frustrated with the overload of undeveloped baddie leads. They will love the next saga in the Peter-Gwen story that reaches a crescendo and increases the Parker pain while revelling in a cocker, more agile Spider-Man this time. As a result of great casting, this franchise leaves you wanting more so the Spider-Man is still amazing and can easily hold its own against the Avengers clan.
4/5 stars
By @FilmGazer