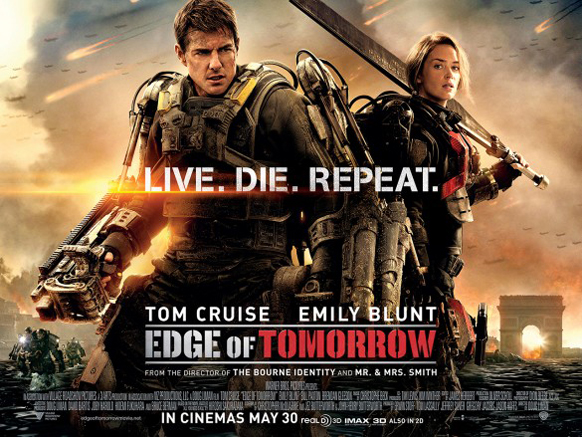 Apocalyptic movies about the destruction of 'selfish mankind' are becoming ten-a-penny, where we're getting quite used to seeing our famous city landmarks reduced to dark, gloomy ruins. It would be easy to knock Tom Cruise's new action flick Edge Of Tomorrow by instantly placing it in that category. However, Cruise as been a little wiser in selecting this film than his other sci-fi efforts (Oblivion) as Edge of Tomorrow echoes Minority Report in clever concepts and time-bending antics. Plus we get to see our famous landmarks reduced to rubble again for good measure.
Earth's defence forces are united and at war with aliens who have taken over Europe and are advancing on the British coastline. US Military officer Cage (Cruise) has been paramount in doing PR for the war effort but finds himself sent to the frontline to report on it by General Brigham (a grumpy Brendan Gleeson) for no apparent reason. Cage objects as he has never been in combat and tries to run but is arrested.
A bewildered Cage wakes up the next day at a base, stripped of his rank and reduced to Private status while being barked at by Master Sergeant Farell (Bill Paxton – in usual combat fatigues). He is placed in the first wave going over to France to fight in what will be a slaughter. However, something happens to him on the battlefield, after witnessing the forces' most decorated soldier, Rita (Emily Blunt), getting killed. The subsequent effect is every time Cage is killed he returns back to the same day, waking up at the barracks. What he must do is use his Groundhog Day scenario to save Rita and find a way to end the war – while not getting injured.
Think Bill Murray's Groundhog Day (1993), but without groundhog Punxsutawney Phil and as much humour (yes, there are some funny moments throughout this in the most tense of situations), and war-film retro but alien-futuristic in nature. The joy of this action sci-fi film is it doesn't start out with the usual hero figure drafted in to the save the day with unlimited knowledge on tap, rather a coward in Cage. In fact, his psyche is rather as you would imagine the average recruit to the D-Day landings in 1944 being – basically, terrified.
What develops over repeated planned scenarios is an elite fighter and a survivor in Cage who battles on to find the solution while wearing his heart on his sleeve. The most memorable aspect is not the usual big-gun-ho battles and Transformer-like aliens coming out of the sand dunes, but a very personal journey by Cage as he grows from strength to strength while trying to keep one step ahead of the time-travelling puzzle.
Cruise seems to have perfected the personable action hero. What helps him further in this respect is the intriguing casting of Emily Blunt opposite him – the most unlikely female action hero. Not so – Ms Blunt can run, fight and deliver vengeance like the best of them (move over mean-faced Michelle Rodriguez). It is perhaps that as Rita, she still possesses certain vulnerability as her public persona breaks down to reveal a more private one that keeps the flourishing relationship subplot so viable and alive. And yet the screenwriters keep us guessing with 'will they, won't they', which with hindsight the result is more the kind of emotional experience one might encounter with the weight of saving humankind on one's shoulders.
Edge Of Tomorrow is definitely a film to experience first-hand – delving into it more reveals too many biological touchpoints, while trying to explain it to others makes the plot sound shallow and samey. The 'rebirth' ending alone will have tongues wagging in heated debate, not since the days of Ripley's fate in the Aliens saga. It's certainly made its mark as an intelligent sci-fi Groundhog Day flick with the token action and alien presence for good measure, a surprise hit at the box office this week.
4/5 stars
By @FilmGazer