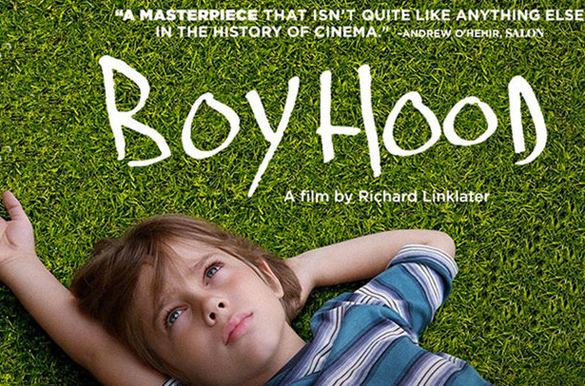 Gone is the usual 24-hour period that most of his films are set in, as filmmaker Richard Linklater achieves his finest work yet with Boyhood, a deeply affecting chronicle of one boy's life, filmed over a decade using the same actor. It will naturally resonate most with parents who are changing nappies one minute to waving goodbye to their college offspring the next – where does the time go, you might ask? That said anyone will appreciate the passing of time too quickly when it matters most – indeed, we've all been guilty of sounding like mum/dad at times, addressing the younger generation, saying "gosh, I can't believe how big you are now!" Boyhood encapsulates this poignant observation over two hours and 44 minutes, but does so, so gradually and with such a natural flare that it's hard to imagine you are watching fiction while witnessing the actors grow up on screen at the same time.
Mason is a Texan boy, aged 5, played by Ellar Coltrane – watch out for this actor. We follow his rather unremarkable (it's so remarkable to watch) life story until he reaches the age of 18. He has an older sister, Samantha (played by Linklater's own daughter, Lorelei Linklater, who nearly pulled out of the project mid-way through). Their single mother (Patricia Arquette) who makes very bad partner choices in men and is a perpetual student at heart raises them both, and times are often tough. Dad (Ethan Hawke) is on the scene, seeing them weekends and trying to engage with his kids as much as possible. We witness (like a fly on the wall) Mason's ups and downs of growing up in an ever-changing environment.
There's a sort of 'Big Brother' aspect to this film in that nothing of any dramatic consequence happens but it's mesmerising to watch – perhaps we need to connect with any fragment of experience of this boy and his family have to subconsciously commit. At the same time, there are emotional moments, like a car crash waiting to happen that don't abruptly punctuate the plot but happen as a matter of course – we are just proven right, sometimes tragically. It's this natural progression that Linklater has developed and nailed that is the film's seminal triumph.
Acting-wise, Coltrane is fascinating to watch, laid back and genuinely easy-going but expertly brewing some pockets of anger at times as Mason. We feel a natural affinity towards him and crave a good ending for him as we feel we have been privy to his upbringing – both actor and character. It will be interesting to see Coltrane outside of this project, in terms of acting ability. Linklater's daughter as Samantha adds the feisty angle, our challenger in the situation (our voice, in some respects), following an intriguing character arc into a grounded adult. However, Arquette and Hawke add the backbone and gravitas that allow the younger actors to thrive, both giving equally splendid performances without becoming too clichéd, as is always the concern with such a tale.
Boyhood allows you to go with the tide, to relish events before you while being judgemental at the same time (to be proven right or wrong). Its characters are flawed and very real, a credit to Linklater's painstaking film-making in keeping a fluidity and authenticity throughout the 12-year period, while asking us to be patient in the outcome. It's quite masterful movie-making and a must-see – parent or no parent, you can't help but be moved and impressed.
5/5 stars
By @FilmGazer