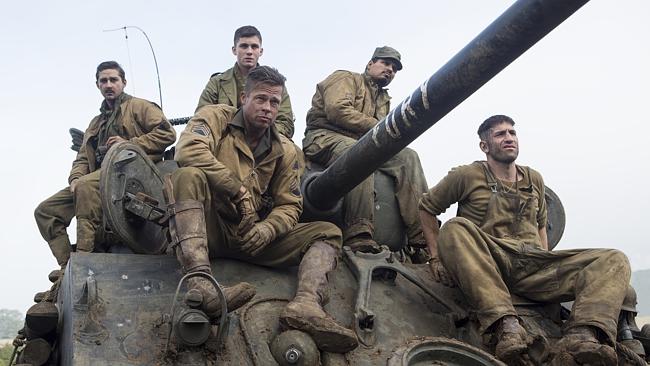 War makes for a powerful cinematic theme. It's the backdrop for many a personal struggle. End of Watch (2012) writer-director David Ayer's Fury is no exception. While about the physical horrors of combat, it's also a sobering coming-of-age drama, told through the eyes of a new tank recruit. It also addresses the psychological effect on the battle-hardened men who have begrudgingly made their Sherman tank their 'home'.
In fact, that's exactly how the metal monstrosity feels – a place of both danger and perverse sanctuary. Ayer juxtaposes the confines of the tank's interior with the outer world that's equally constraining, set behind enemy lines in Germany. It's a very different take on WWII than we're used to seeing.
It's April 1945, a few months before WWII ends, and as the Allies make their final push into Nazi Germany, a US tank commanded by experienced and hardened army sergeant Don 'Wardaddy' Collier (Brad Pitt who is also exec producer on the film) is central to securing the route along the way.
Tragically, Wardaddy has recently lost one of his five-man crew, but the Allies need his and his men's help, so send rookie Norman Ellison (Logan Lerman) to join them, totally unprepared for tank life or the immediate horrors of war. Ellison soon learns the hard way, toughening his resolve. The final confrontation sees the crew out-numbered and out-gunned with the enemy marching towards them.
You can really taste the blood, sweat, dirt and primal fear within the tank as Ayer vividly recreates the unimaginably cramp conditions – complete with pans across the interior's 'décor'. It's certainly a unique dimension, but one Ayer is no stranger to with his leads riding around in a patrol car in the 2012 film. He is expert at revealing the interpersonal moments between characters, the camaraderie, before the action kicks in.
In the action stakes, Fury is a triumph. One of the most exhilarating scenes is a tank-to-tank standoff in a field that ramps up the tension to breaking point. In others, Ayer sets out to shock with cold, hard realism – no character is safe, it seems, and it becomes unclear as to whether anyone will be left standing to tell the tale. On the contrary, the resultant ending seems a little incredulous and very Hollywood-stylised ­– probably to win over American audiences, although Team Wardaddy should have heroically done that already without much effort. That said the parting post-battle aerial shot of the fallout mitigates any thoughts of stylisation.
The casting is exemplary. Pitt is his usual charismatic self, though as Wardaddy who has faced many demons, he switches from being deplorable and apathetic to protector and trusted mentor, as he witnesses elements of his former self in the terrified Ellison. So, still the good guy but he has to work at keeping the balance more here.
Lerman (of Percy Jackson fame) has clearly moved on from teen productions, making a significant impression in this serious role. However, the standout performance on the night – possibly career reinvigorating – goes to Transformers' Shia LaBeouf as the faith-wavering Boyd 'Bible' Swan, one of Wardaddy's loyal team members. LaBeouf redefines himself in this, playing a damaged character clinging to humanity and civility. It's the most powerful performance of the lot, supported by some excellent turns from Michael Peña (of End of Watch fame) and Jon Bernthal as the rest of the motley tank crew.
Ayer excels at character pieces, and Fury is such, first and foremost. It's compelling in every sense, a tank western to appeal to all those into final shoot-outs. This is also Pitt, grittier than Lt. Aldo Raine, just pure damaged goods playing out his own kind of rough justice, questionable even as survival tactics. Fury also serves as a stark reminder of the graphic horror of WWII – as Ayer puts us right in the middle of it, when the usual American portrayal of this period is very much romanticised. That's the big whammy setting it apart from its wartime peers.
4/5 stars
By @FilmGazer