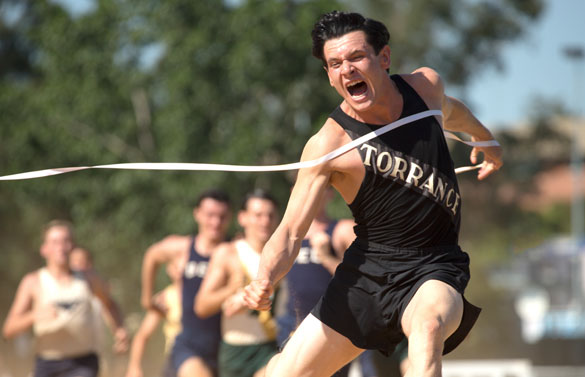 This may well have Oscar baiting stamped all over it, but no one can deny the life story of Louis Zamperini is not made for the big screen. If it weren't a true story, the screenwriters would be accused of 'over egging the war hero' pudding. It's also clear why director Angelina Jolie fought to direct it. Unbroken aptly describes the gutsy nature of its protagonist, Zamperini, first depicted as a troublesome boy with no prospects. The problems with Unbroken lie not with the richness of the plot, but its director's need to wring out every last torturous scene – as if the first few times don't illustrate this enough.
'71 and Starred Up actor Jack O'Connell plays Zamperini, who first discovers he has a knack for running when sprinting away from the law as a wayward Italian boy growing up in 1920s America. Coached by his older brother, he becomes an Olympic athlete for the US team who competes in Hitler's 1936 Olympic games. War breaks out and Zamperini is drafted as a bombardier in the air force, and stationed out in the Pacific.
On a search and rescue flight, he and his crew crash into the ocean, leaving only him and two others alive. He survives for forty-seven days at sea in a life raft, only for the Japanese to pick him up and take him back to a jungle camp as a prisoner of war. For the next three years he is sent to various Japanese prison camps, where he is subjected to torture regularly, mainly under the evil eye of camp commander Watanabe (Japanese singer-songwriter Miyavi).
O'Connell delivers yet another highly impressive performance as Zamperini and takes on his most physically gruelling role ever, reducing a toned physic to a bag of bones as a PoW. The actor certainly deserves a nod come Awards night. Miyavi in his second screen outing is quite remarkable too. Indeed, he acting is one of the film's fortes.
Unbroken is very much like two different types of survival film, with adrift at sea, beating off predators as harrowing to watch as life as a PoW. The former shows Mother Nature's toll on the physical and mental state, with drawn out scenes necessary to demonstrate the torture of dying slowly in extreme temperatures. The same can't be said of the latter part of the film.
There is a bit too much PoW camp brutality with little repercussion. It just seems to serve as emphasis of the title of one man's unbroken spirit – which we're already more than respectful of. One such example is watching an entire PoW camp punch Zamperini in the face as punishment for a lack of respect. It just runs too long, its power lost after the first two punches are dealt. Sometimes, what's left to the imagination is far more powerful.
The Zamperini verses Watanabe battle of wills gets lost in the last stand off too, and lessens in effect the longer the sequence runs. There is a whole richness of their odd 'relationship' that seems lacking, considering the real Zamperini sought out to make peace with the man after the war, only for Watanabe to refuse to see him. It's not fully explained what Watanabe's reasons were for singling out Zamperini, and this aspect gets diluted more as the pair eyeball each other for long periods. This was the strength of last year's The Railway Man. It had consequences and different tonal shifts to it, rather than powering on full throttle with scenes of brutal endurance. This is not to say Unbroken isn't affecting – it certainly is, but it would have far greater impact with changes in pace and intensity.
Unbroken is another utterly remarkable human being story brought to life with outstanding performances, especially from ever solid O'Connell. It is also an endurance test in itself for the viewer, both exhilarating and extraordinary as well as bloated and indulgent. The post-war story is even more fascinating, but added as the usual series of slates before the end credits roll, like a sobering after thought. Zamperini's story needed to be told as a mark of respect. Jolie does it justice but needs to put in the detail and tonal elements in her next project as she did in directing debut, In the Land of Blood and Honey, to really stamp her authority in the epic directing arena.
3/5 stars
By @FilmGazer