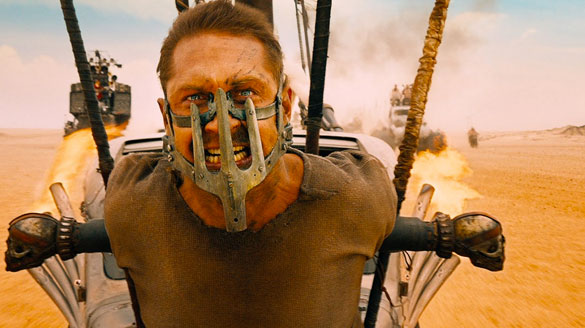 For sheer spectacle's sake, a trip to the rebooted Mad Max for 2015 that's Fury Road is worth the ticket price alone – even in 2D (which this press screening was). Although there are great planes of desert landscape, writer-director George Miller 'confines' us in an even more sinister world than before then attacks our senses on all fronts. As its name suggests, Fury Road like an angry virtual reality experience, a never-ending chase scene with no respite or 'safe ground' in sight, all post-apocalyptic terror, but even more frightening as there appears to be no destination in sight.
–
Rebel Max Rockatansky (Tom Hardy reprising Mel Gibson's iconic role) is caught by the sickly War Boys of Immortan Joe (Hugh Keays-Byrne) and used by one, Nux (Nicholas Hoult), as his personal, portable blood bank. The War Boys' world is one where petrol and water are vital currency. When one of their own, tanker driver Imperator Furiosa (Charlize Theron) absconds with Joe's wives – one of which is pregnant and expected to bear a healthy baby (played by Rosie Huntington Whiteley), the War Boys go after Furiosa and her load. Furiosa's goal is reaching her former childhood home across the desert landscape, her route to survival, with lush greenery – and hope of civilisation.
–
Fury Road uber-hypes all that is common to the other Mad Max films tenfold, from intense, thundering chase sequences and pure insanity (metallic face-painting moments) to a sense of paranoia and despair. Watching the War Boys in action is like watching Duracell bunnies in overdrive, a near exhausting but utterly fascinating choreography as they plough forward to catch their targets. This is all propelled by a heavy-metal presence on screen of a guitar player/flame-thrower and drummers as they go into battle. This power is a complete contradiction to the War Boys general malaise, all sickly white and tumour-ridden but still as tough as steel.
–
In contrast, Theron as shaven-headed Furiosa – a determined, warrior/Terminator-like Alpha female similar to Ripley in Aliens – seems the healthiest of the bunch, as do the four ethereal wives that pose against the desert landscape, looking like a supermodel centrefold for Vogue beachwear. Theron steals the show, and there is some vague resemblance of character arcs as we go on their perilous journey with them.
–
A gruff Hardy channels, physically and mentally, his Bronson and Bane characteristics into Max – especially the latter in the metal mask, grunting and sneering and using his bulk to depict his mood and needs. His Max isn't as insane in the devilish sense as Gibson's was, and he seems more solid and cumbersome. He also has a 'transformation' in spirit – complete with a tender but clumsy moment, though it's hard to say whether this is character building or a moment of weakness.
–
Hoult's character Nux is also intriguing, like some present-day, impressionable, young jihadi wanting to reach paradise in Valhalla. The striking similarities to current events, including the fight over amenities like fuel is a chilling reminder to us all – if you can get past the head-thumping soundtrack and circus-styled action for a moment (there IS downtime, so breathe). There is so much going on, perhaps too much to process that any criticism lies in needing knowledge of the previous Mad Max saga and their existence to begin to piece together snippets of what kind of 'human' society remains on Joe's rocky pad post Apocalypse.
–
All in all, Mad Max: Fury Road is complete rush of the senses and has some of the most exhausting action pieces in a very long time, combined with some mind-blowing design and cinematography to keep you transfixed – or pinned – in your seat. Note: it's not necessary to pay the 3D ticket price either. Fury Road is based on the original concept as the previous films – maybe decades later – but just uses more present-day cinematic trickery to put you firmly in the escaping driving seat. As a result, Mad Max the character becomes almost a sideshow to the film's juggernaut momentum. If that's still acceptable for fans, Fury Road will thrill the living daylights out of you.
4/5 stars
By @FilmGazer