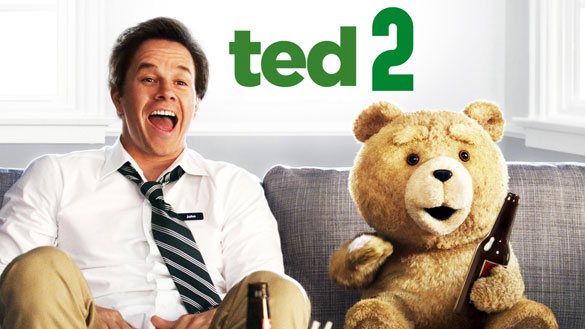 Thunder buddies John and Ted are back on the big screen, complete with bongs, attractive ladies and bodily functions/parts. There are still the puerile jokes to be appalled-sniggered at, but lots more pop culture references, often very US-centric (do you know who Tom Brady is?) that they may have UK audiences scratching their heads or missing them completely – unless you are a Family Guy fan. Creator Seth MacFarlane is determined to shoe-horn in support for his successful cartoon TV series, along with other personal points of interest, but this time he's injected a more 'serious' aspect to the plotline too.
—
John (Mark Wahlberg) is still not over his split with ex Lori (Mila Kunis from Ted), but he dutifully watches as furry best friend Ted (voiced by MacFarlane) gets hitched to grocery store hottie Tami-Lynn (Jessica Barth). Fast forward a couple of years, and Ted and Tami-Lynn's marriage is in trouble. The solution is having a baby, they're told. The hiccup is Ted's lacking anatomy then the fact that he is considered 'property' not a 'person' under the eyes of the law, after inquiring at an adoption agency.
—
John helps Ted win his right to be considered a person through the courts, enrolling the services of stoner human rights law grad 'Sam L Jackson' (Amanda Seyfried). Meanwhile, sinister Donny (Giovanni Ribisi) returns, trying one last time to get his hands on Ted as he's considered property.
—
The film's serious note is Ted's character's right to be considered a person with human rights – echoing the 1960's Civil Rights Movement in the US and other human rights atrocities currently going on, globally. MacFarlane drums this home while having fun going about it. However, this does take the insanity element away that the first film had, coupled with the fact that we no longer get the shock value of a cute, cuddly-looking teddy with a potty mouth. This is removed because we know what to expect from Ted. Sometimes, it feels like you are laughing because you are in frat-like company and are expected to go along with the joke, rather than actually finding some gags funny.
—
Still, the running joke at Sam/Seyfried's expense is a physical reference to LOTR's Gollum, which is as childish as it is amusing, added to which Sam just doesn't get the pop culture references either, including sharing her full name with a Hollywood star. It's hard to say whether this kind of humour is genuinely clever in the film, but it does get a little tiresome.
—
There are some genuinely funny moments in there, such as when the childhood buddies visit an improv comedy club to cheer themselves up. The pair heckles the 'talent' on stage to use '9/11', 'Robin Williams on 9/11' to 'Charlie Hebdo' as suggestions for the improv piece. It's exactly the kind of MacFarlane comedy gold we expect from his Family Guy heyday.
—
The jury's still out as to whether the return of Donny is really necessary as a subplot to merely highlight Ted's 'property' label  – and just how MacFarlane got Hasbro to agree to its shady dealings in this, is anyone's guess, but it's quite a coup. "No publicity is bad publicity" as they say…
—
Ted 2 feeds more of the same to a more clued-up audience. While this might kill the buzz the first film brilliantly created, it's not necessarily without its entertainment value or merit either. However, if you are looking for more Ted shockers, you may feel short-changed. Still, seeing the infantile pranksters back on screen will delight on the whole.
3/5 stars
By @FilmGazer