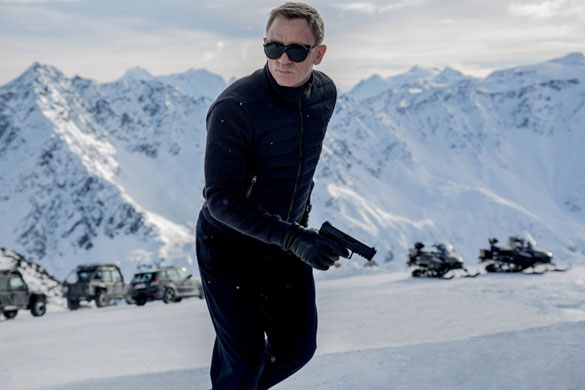 The year's most hotly anticipated film is finally out. Spectre pays homage to many Bond outings before it, with fans recognising elements from previous films that made them so memorable. While Spectre has something for everyone, it does not have that dark, rich emotional pull of Skyfall (2012), which saw the demise of female M (Judi Dench). It does have a couple of surprises though, sure to give those fond of Skyfall a thrill.
A cryptic message from the past sends James Bond, 007 (Daniel Craig) on a rogue mission to Mexico City and then Rome, where he meets Lucia Sciarra (Monica Bellucci), the beautiful widow of an infamous criminal Bond was after in Mexico. In turn, Bond infiltrates a secret meeting and uncovers the existence of the sinister organisation known as SPECTRE led by shadowy figure Franz Oberhauser (Christoph Waltz).
Meanwhile, in London, the value (and cost) of the '00' spy operation is being called into question in favour of surveillance tech in a new Centre of National Security (CNS) housed across the river from the now derelict MI6 HQ. This puts M (Ralph Fiennes) at loggerheads with the CNS's head Max Denbigh (Andrew Scott). 007 must covertly enlist Moneypenny (Naomie Harris) and Q (Ben Whishaw) to help him find Madeleine Swann (Léa Seydoux), the daughter of his old nemesis, who may hold the clue to untangling the web of SPECTRE.
From Bond's breathtaking rooftop sprint while Mexico City's 'Day of the Dead' festival is in full Gothic swing below, to octopus-tentacle-tickling opening titles sung by Sam Smith, Spectre sets out to thrill from the start. It's slicker, sexier and better (and more impacting) than any glossy car ad before it – complete with a new pair of stunning wheels and another exhilarating car chase. This is how we expect our Bond to be served the last decade plus, from Casino Royale (2006) to now, like a Bourne action flick – the case of the chicken or the egg? The uncovering of the SPECTRE organisation is pure latter-day Bond in style and fight choreography too, with a touch of retro 007 in production design.
For those who crave yonder years Bonds, 007's first encounter with Ms Swann harks back to On Her Majesty's Secret Service, for example, in a snowy location – Seydoux herself, a Sixties-styled leading lady, not to mention the traditionally curvaceous lady in Bellucci as the widow with a price on her head. Even hefty henchman Mr Hinx (Dave Bautista) has all the subtly of The Spy Who Loved Me and Moonraker's Jaws.
The big reveal will have Bond baddie aficionados either cheering from the seats or groaning in unison too, as director Sam Mendes and writing team John Logan, Neal Purvis, Robert Wade and Jez Butterworth make a (tenuous) link between Ian Fleming's characters, all leading to one infamous puppet master. Tying in nicely with this back home in London is the all too sad, real-life fact that spying is going the way of police profiling and CCTV – prevention first – as budgets get slashed. This is a very nice touch that gives Spectre an air of credibility, as times of austerity have finally caught up with the Bond franchise in plot only.
The cast of Spectre does a grand job of their respective roles, with Waltz being the only one who disappoints a little as he doesn't have the opportunity to really channelling enough of that sinister Inglourious Basterds' Landa malice that we come to expect. His character is rendered more comical and caricature-like than is possibly intended, even when his serious link to Bond is fully spelt out. In this respect, there is a vague 'familiar' similarity to Mendes' Skyfall final scenes.
Spectre has its niggles and perhaps, as with every new Bond, high expectations to meet. However, Mendes does try to please everyone here – and does so on the whole, so it's a definite hit as the chickens come home to roost and Craig hangs up his tight-fitting suit.
4/5 stars
By @FilmGazer