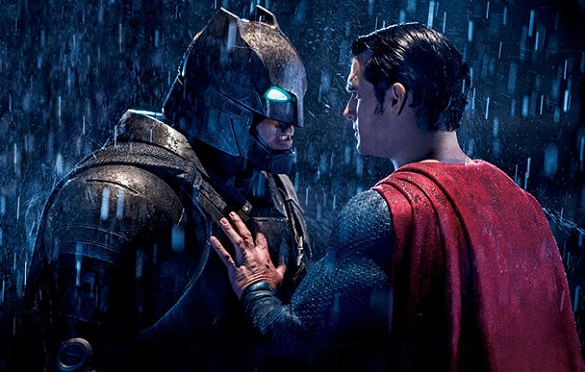 Director Zack Snyder's new Batman v Superman: Dawn of Justice is in danger of becoming merely ammunition in Warner Bros's newly launched DC Films Universe battle with Marvel, rather than viewed as a superhero movie in its own right.
This sequel will be compared with Snyder's first DC Comics film, Man of Steel (2013), with an eye on the much-anticipated, future Justice League movies. The 2013 film was criticised for portraying Superman (Henry Cavill) in a dark, destructive light, something some were not prepared for. Superman even kills one of his own, which shocked many.
Dawn of Justice is no exception – Superman (Cavill again) is far from good and inflicts some rough justice. However, the film attempts to address the fear the character has (where he belongs, what he's capable of), as well as man's fear of Superman's power and threat to humanity.
It uses two contrasting characters to do this in Batman (Ben Affleck) and Lex Luthor (Jesse Eisenberg), both of which equally despises and celebrates this god incarnate's gifts. It's like the comic-book version of the Easter story; the persecution of a deity through ignorance. Using Snyder's enormous visual prowess, Dawn of Justice is full of intriguing messages and imagery, which is just as well, as the acting gets lost in the CG medley, as do the characters' reasoning.
After bringing down General Zod – remnants of which we see at the beginning of this, Batman wants to curb Superman's actions, while the world decides whether it really needs a superhero at all. Is the Kryptonian actually a menace to society, considering the chaos he brought to Earth in the 2013 film?
With Batman after Superman, a new threat, Doomsday, is allowed to emerge, created by Superman's arch enemy Luthor. Can the superheroes put aside their differences to battle the true evil destroying Metropolis once more, with a little help from Wonder Woman (Gal Gadot)?
Think Nolan and The Dark Knight for comic-book grittiness. The sheen is completely absent from Superman's colourful persona. Thank goodness for Clark Kent – Superman's alter-ego – or there would be zero soul left in the character. Cavill has limited facial expressions too, relying on his furrowed brow to do all the acting work. Hence this keeps Superman even more two dimensional. It also limits how much we really understand about how exactly this 'anti-hero' feels, which is a shame.
Snyder's Batman is also a damaged character. Affleck gets little to do apart from scowl around and clunk about in what must be the heaviest Batman suit ever. Gone is Batman's smart-thinking/acting slickness. He seems more Transformer than lithe bat-like creature. This seems to suit Snyder's heavy-meted action sequences, especially when Doomsday appears. However, Batman comes across as a lumbering, half-witted brute most of the time, which again, makes him 'heartless', with only scenes of the wrecked Wayne mansion etc to suggest his inner pain and grief.
As a result of a lack of what is going on inside these characters' heads, comes a lack of empathy and understanding as to what Batman's personal grievance with Superman actually is? Snyder merely 'suggests' with flashbacks, which doesn't quite add up. Apart from what Luthor wants both to think of each other, this doesn't seem strong enough rationality for them to be knocking the hell out of each other.
That said when the Batman v Superman showdown actually arrives, it might be a whirl of CGI but it's pretty exhilarating to watch on a big screen. Snyder is in his element here, and just the right comic-book fan/artist to recreate such a spectacle for fanboys out there. Superman's brush with Doomsday re-addresses his lost humanity too.
As lovely and determined as Amy Adams is as rogue reporter Lois Lane, there does seem to be a little too much Ms Lane in trouble – or in the buff – in this. How anyone can navigate that much concrete rumble in heels is anyone's guess during the final battle scenes. As strong a female character as Lane is, it's Gadot's Diana Prince/Wonder Woman that's the more positive contrast with the male characters. Hers is a pure superhero without agenda, just old-school trying to save us from the greater evil.
Like Ledger's Joker, Eisenberg makes Luthor his own crazed interpretation. His is a babbling nervous wreck, likely to self-implode at any second and keeping things edgy. His excitable state at the very least keeps things energetic, or they would be in danger of slipping into a depressed state – him, and Jeremy Irons's smart tongue as Alfred.
If you like lots of mood, Batman v Superman is your kind of DC Comics interpretation, though it is more visual that cerebral. There is a distinct lack of emotion from the main characters that leaves Dawn of Justice plain numbing. If it wasn't for some of the supporting cast, it would be a CG swirl of colour and noise. Though, if there was a prize for cinematic gloom, this installment would win hands down.
3/5 stars
By @FilmGazer