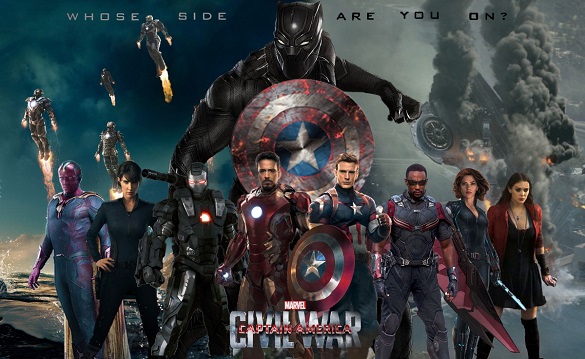 Government bureaucrats are meddling again – this time with the Avengers. Ironically, mirroring sentiments of the Brexit brigade, the new Captain America: Civil War (3D) film sees the super-powered brethren divided when asked to conform to a set of rules drawn up by several countries, after their antics get out of control. The film then asks its Avenger players – and you – to choose sides. Cue big clash scene then confrontation with the real villain. It sounds like a familiar format (trouble brews, send in the Avengers), but Civil War is bursting with action, drama and genuine character individuality.
When another incident involves Avengers collateral damage and lives are lost, the global nations put pressure on the group to sign a document of accountability, to be headed by a governing body. This divides opinion at Avengers HQ, resulting in two camps: Steve Rogers/Captain America (against) verses Tony Stark/Iron Man (for). The other Avengers must chose sides, while the real culprit behind the atrocities still roams free.
There is a lot more happening in Civil War than previous films like Age of Ultron (2015). Marvel's notorious characters are each given breathing space to reveal more of their personalities in reaction to the big decision. Naturally, Captain America (Chris Evans) and Iron man (Robert Downey Jr.) take centre-stage as team leaders. In return for exposing the characters we get greater satisfaction, plus a very real sense of what's at stake when the two sides square up.
The fight scenes are some of the best cinematic Avengers ones so far, still incorporating flying bodies and colourful debris, but allowing momentary pauses for character commentary, while neatly setting the scene for the following Infinity War films (2018). There is a massive thrill seeing your favourite Avenger 'play fighting' with its peers in a playground-like brawl at an airport, and guessing whose power trumps another's.
On a more serious note, the ultimate scuffle between Captain America/Steve Rogers and Iron Man/Tony Stark feels like watching sibling rivalry with deeper, more damaging elements at play. This ugly standoff questions the boundaries of loyalty – and to whom? It's a fascinating subject matter for fans.
The returning Avengers cast of Evans, Downey Jr., Scarlett Johansson (Black Widow), Sebastian Stan (Winter Soldier), Anthony Mackie (Falcon), Don Cheadle (War Machine), Jeremy Renner (Hawkeye), Paul Bettany (Vision), Elizabeth Olsen (Wanda/Scarlet Witch), Paul Rudd (Ant-Man) and Frank Grillo (Crossbones) pull out all the stops to give this saga an enormous amount of the wit, tension and natural energy.
Newcomers Chadwick Boseman as Black Panther and Tom Holland as all-new Spider-Man do a fine job of bringing their comic-book characters to life, so it's hard not to feel excited at the end for the Black Panther solo outing, also expected in 2018.
Holland has the biggest chore to convince us that we need yet another Spidey depiction but notches up enough laughs in this, and more than holds his own in his first meeting with Downey Jr.'s wise-cracking Stark. Still, you can't help but think what Andrew Garfield's Peter Parker could have delivered though. It does feel like Holland has studied his predecessor's portrayal closely.
It's still down to a touch of Downey Jr. charisma to be the main catalyst. Evans's all-American hero icon is forever dutifully composed but again, feels very wooden and two-dimensional, even with a personal bereavement story to deal with. Olsen's uncredited Wanda in The Winter Soldier (2014) steals the thunder, especially with her intriguing relationship with Vision. For sheer comedy value, Rudd's Ant-Man is hilarious, especially in the airport scene, keeping interest ticking along for the forthcoming Ant-Man and the Wasp, again out in 2018.
Daniel Brühl of Rush fame has the task of being lone villain Zemo among all the Avengers, stirring up the pot in the background but still managing to have an intriguing back-story to hand when needed. Brühl is always solid in his roles, so no surprises here.
The Russo Brothers, responsible for the direction of The Winter Soldier are showing their impressive expertise in tackling the plethora of Avenger characters in an intelligent and sophisticated fashion, making the two-part Infinity War series sequel to Age of Ultron – and introducing Josh Brolin as eagerly anticipated supervillain Thanos – a very exciting prospect in their very capable hands.
Captain America: Civil War is the smartest Avengers film to date and serves as a well-made introduction to the Marvel characters for any newbies. New cast members and old-timers do not disappoint, even with a lot of personalities at stake. Though Evans is now embedded as Captain America, in this reviewer's opinion, the jury is still out as to whether he was the best possible choice opposite the Downey Jr. dynamo, especially when he headlines his own film once again. Thank goodness for the other Avengers.
4/5 stars
By @FilmGazer