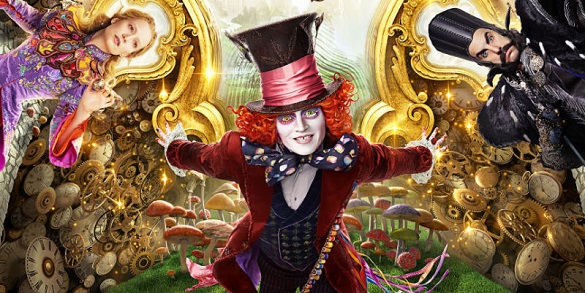 The wonder that is Lewis Carroll returns with the loveable Alice in Wonderland characters, but minus his clever, quirky storytelling in director James Bobin and screenwriter Linda Woolverton's 3D creation, Alice Through the Looking Glass. Thankfully, the visuals capture the imagination and deflect from the lacklustre adventure.
Alice (Mia Wasikowska returning) comes home from her sea travels on her late father's ship to find her mother, Helen (Lindsay Duncan) being forced to sell the ship (and family business) or forfeit the family home. This threatens to end her independence and adventures.
Alice returns to Wonderland through a looking glass, only to discover that dear old friend Hatter (Johnny Depp) has gone into a deep depression because nobody believes his family are still alive. In order to prove they are and change the cruel course of history, Alice must 'borrow' a vital time machine device from Time (Sacha Baron Cohen) and face an old adversary, Iracebeth, the Red Queen (Helena Bonham Carter).
Bobin has big creative boots to fill in Tim Burton's absence, and he does an adequate job here, gaining the most he can out of a sparse tale with the acting talent on offer. However, the fault lies more on the writing side. Although Hatter's family demise is interesting – as is the family breakdown and back story of another key character, there just doesn't seem to be enough to carry the film past the eye-boggling visuals.
It needs to be brain-bending too, translatable to youngsters but fascinating for adults. The key being main character Alice and why she feels compelled to put it all on the line to uncover Hatter's mystery and save her own sanity. It just feels too superficial, lazily aimed at the effects-hungry youngsters who should not be underestimated for craving substance either.
That said the likes of Depp, Cohen and Bonham Carter fill the story void, each expertly portraying a wonderful animated character, though lacking the narrative space to fully blossom as we are whisked away on the next whiz-bang effects sequence to solve the Hatter riddle. Wasikowska is again commendable as headstrong Alice who is crushingly vulnerable and immature at times – hence retreating into Wonderland.
Attempting to tackle Alice's personal struggles, including her mental health and society's expectations of privileged women of that time is stuff of another more 'grown up' film version. However, Alice does wake up in an institution so these aspects are still very relevant and lacking the explanation they deserve – the kids will still ask why she's bed bound. Just as well the arresting visuals come to the film's rescue to stop you spending any more time contemplating this oversight.
Alice Through the Looking Glass is a feast for the imagination, so the design team has well and truly done its job. It's Carroll's eccentric storytelling that's woefully missing, even while revisiting the individually unique characters.
2/5 stars
By @FilmGazer