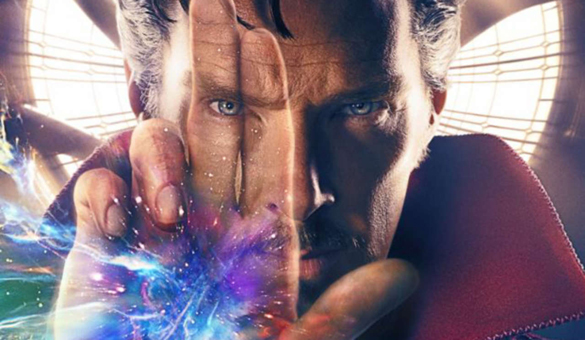 Any Cumberb*tch could have told you their idol Benedict Cumberbatch was on a higher spiritual level a long time ago. Indeed, the actor is famous for playing cerebral, influential men, so it's no stretch of the imagination to find him a Marvel hit in the role of Doctor Strange.
When brilliant neurosurgen Dr Stephen Strange awakes from a serious car accident without the full use of his hands, he tries to find every means possible to recover, even pushing away support from fellow doctor Christine Palmer (Rachel McAdams), an old flame. His inability to accept his current predicament leads him on a journey to Nepal to find 'The Ancient one' (Tilda Swinton) who has helped another man make a full recovery.
As a man of science Strange finds it hard to take her advice and is skepitcal about the 'magic' of the mystic arts she performs. Little does Strange know that this newfound power will not only save his life, but also the whole world's from the dark forces set to crush and consume Earth, under the command of Kaecilius (Mads Mikkelsen), a former pupil of The Ancient One.
Co-writer/director Scott Derrickson and team have brought the intriguing Steve Ditko character to life, helped by some excellent casting in Cumberbatch who is as egotistical and narcissistic in the role as he is very funny. There is a superb script to enjoy and some genuinely hilarious retorts, as Strange tries to navigate this magical new world with sarcasm and scientific doubt.
Swinton adds the gravitas required for a key spiritual teacher and is faultless as she is vulnerable in the role – and equally amusing. However, it's Strange's quips at the expense of po-faced librarian Wong (Benedict Wong) that steal the main laughs – the running joke being that the ex-surgeon thinks he is a funny man when clearly he is an acquired taste.
McAdams also gets in on the laughs to relieve her character's tense interactions with 'spiritual' Strange upon his return, and can be counted on for a solid performance in everything she does. There is also an assured turn by Chiwetel Ejiofor as Mordo, another pupil who rejects the use of the dark powers in healing others.
Hannibal actor Mikkelsen fails to disappoint yet again as the bad guy, with his steely gaze intact and laudable focus on the mission. The film's fight scenes are also very well choreographed, with a good balance between action and character development throughout.
Derrickson's mind/eye-bending set, like something from Christopher Nolan's Inception, keeps the fantasy morphing and fresh as we navigate it's Esher-like space before entering another plane. The effects are highly impressive, as is the creativity poured into them – just witness skeptic Strange's first experience through the astral plane, which is like riding a psychedelic rollercoaster.
Doctor Strange makes for a promising entry into the Marvel world for the uninitiated – and stay to the very end of the credits for both sneak peaks of what's to come, involving other Marvel heroes. Some of the slower parts of the film go unnoticed because Cumberbatch always commands a presence and is immensely enthralling to watch.
4/5 stars
By @FilmGazer