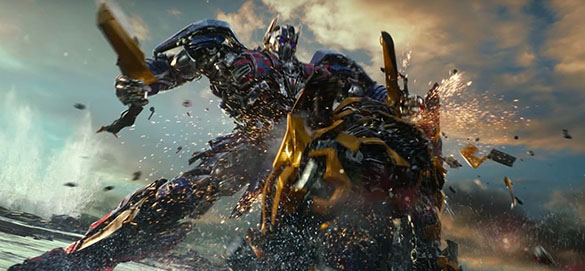 Relax folks, it's Michael Bay back again for the fifth time to assault our senses. Go into Transformers: The Last Night with this in mind, and the outcome isn't as painful as you might expect. There is less mangled mental in colourful whirl than in previous films – and this one is mildly better than the last. Indeed, love or hate him, Bay is a master at crafting an action blockbuster for the supersized screen, which is why people come back for more. It's got nothing to do with plot and character development.
Action stalwart Mark Wahlberg returns for more of a beating as engineer and 'inventor' Cade Yeager who is in hiding from the Transformers Reaction Force, a military-run operation tasked with ridding the planet of Transformers. Yeager has a few hiding out in his scrap metal yard, including Bumblebee, right-hand robot to the Autobot's leader, Optimus Prime (who keeps telling us he's 'Optimus Prime' throughout, in case we missed it).
The latter is forced against his will to find the key – something to do with mythical wizard Merlin – to bringing Prime's dead home planet, Cybertron, back to life, while Megatron and his Decepticons wait to destroy him and his crew. The problem is, in bringing Cybertron back, Earth must perish. It's up to Yeager, an English history professor (Laura Haddock) and their allies (including Anthony Hopkins as Sir Edmund Burton, Josh Duhamel as ever embattled Colonel William Lennox and John Turturro as the exiled but returning Agent Simmons) to save our planet.
In a similar vein to the Fast and Furious franchise – both boast machines, babes and gravity-defying stunts (for humans), Transformers still fills cinema seats. The answer is in the easily digestible format as listed. You can switch off and go 'oooo and ahhh' at the spectacle, like being on an overpriced rollercoaster seat – and it affects the eyeballs too. If that's not your bag, it isn't going to delight or get any better. In fact, it's going to be painful. That is where the problem lies in critics expecting greater things from Bay – he actually gives you what you crave in terms of an action blockbuster fix, nothing else.
Transformers is an utterly daft franchise, made crazier this time in The Last Knight by the excruciating upper-class English caricatures that are both ridiculous and unrealistic – much like its battle scenes. It always prompts much head scratching when humans believe firing rounds of bullets and rockets at superior alien life forms would eliminate the threat. Eventually they hit the bullseye, after some bright spark figures out how to.
The fact that writers Art Marcum, Matt Holloway and Ken Nolan believe linking the kingdom of Camelot and the Knights of the Round Table to the Transformers' history is farcical in itself – like a last bid attempt at making the story franchise credible. If you can absorb and overcome this absurdity, it's even more entertainingly silly to watch – a fact the cast seem to have grasped.
Wahlberg is designed for such films, returning for more. His character is always agreeable, testosterone-fuelled and smart-mouthed enough to get you on side. Like Fast and Furious, there are some nice motors to ogle too – in addition to pouty Haddock who is a Megan Fox clone, however unfair that is to the Brit actress. There is also the (frankly) pointless casting of young Isabela Moner as 'Transformer protector' Izabella, perhaps for the younger audience, but sinisterly 'over sexed' (and pouty) to set off parents' alarm bells of 12 year-olds. Again, it's Bay's Fox obsession filtering through…
Transformers: The Last Night (3D) – seen in 3D but not necessary to be – is much of the same with a plot out of a Dan Brown novel, if you think of the secret society aspect. The familiar faces slog on to the last; indeed, the ending points to installment six. Yes, another Transformer siege is in the planning, and if you haven't got fatigue already, there's a Bumblebee spin-off too. If that grates by the end of this film, Optimus Prime telling us he's, well, Optimus Prime, then be prepared for the onslaught of the bleedin' obvious in round six. You just can't keep a Transformer down, it seems.
2/5 stars
By @FilmGazer