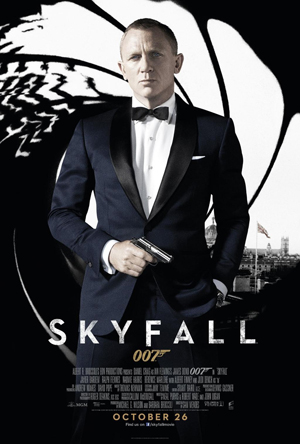 The origins of Bond are the subject of this highly fitting 50th Anniversary release to mark Britain's ultimate spy character. Those expecting the usual slick chase and high-tech gadgetry will not be disappointed by the first part of the film with its gravity-defying manoeuvres at breakneck speeds. However, things come to an intriguing and abrupt halt before the inky title sequence flows over the big screen, accompanied by Adele's vocals.
The instant appeal of Sam Mendes' Bond film Skyfall is how raw and human it is compared to other Bonds, with the well-worn wheels of British Intelligence grinding to a natural halt with the advent of cyber-terrorism and the 'unknown' enemy. It's an exciting prospect that puts genuine fear into this story, and a sort of helplessness that no other Bond film has ever dared show before. In this respect, Daniel Craig enters a whole different persona with his 007, not afraid to show how vulnerable he is.
The other central, compelling aspect is the matriarchal plot surrounding the enigmatic M, played for the seventh time by Dame Judi Dench. Rather than bark orders from behind a desk, she is very much the crux of the whole story, creating a brilliant 'emotional' triangle involving Bond and this film's baddie, the Nordic-looking, Hispanic Silva, played by Javier Bardem. The latter's first captivating appearance is a gamble that paid off for Mendes with one long shot that focuses attention fully on the story analogy behind the madman's intentions, and it's a striking and enticing delivery as Silva takes form.
Perhaps the only minor disappointment for those who love their fair share of stunning Bond girls is the limited screen time given to Bérénice Marlohe's sultry Sévérine who is naturally seduced by Bond, only to be cast aside soon after. In a way, M becomes the original Bond girl, with undertones of incest implied within its unusual maternal bonding subject matter that come to a dramatic conclusion in the Scottish Highlands at Bond's ancestral home of Skyfall. The ending's production values compared with the flamboyant Chinese skylines of Shanghai and Macau at this start return this saga to its roots. It sets up an exciting prospect for the other films Craig has signed up for. Yes, Bond has life in him yet, and this is one episode not to be missed.
4/5 stars
By @FilmGazer