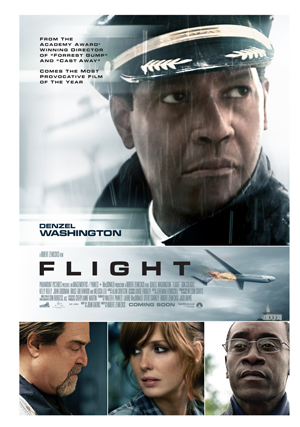 Denzel Washington is often associated playing real-life characters and 'reliable' ones in law enforcement. But in the last year or so, the versatile actor has decided to try his hand at challenging, flawed parts (Tobin Frost in Safe House), still managing to win our empathy at the end of each journey his character makes. Captain Whip Whitaker in director Robert Zemeckis's Flight is no exception, and probably the most controversial to date from its opening scene. In fact, far from what appears to be an action drama in the first part, Flight is a serious and austere character study addressing a serious issue that seems a change in direction even for Zemeckis, immediately making it intriguing.
Experienced commercial airline pilot Whitaker (Washington) saves a flight from complete catastrophe and loss of life with his years of advanced flying experience. But as the crash investigation into the supposed plane malfunctions widens, more troubling evidence comes to light that throws suspicion on the 'hero' pilot.
Up for an Oscar this year, Washington is unsurprisingly, utterly compelling once again in this solid drama with a touching and relevant human struggle and jaw-dropping flight action scenes to boot. Whip is a charming but an ugly, broken character that Washington seems to relish laying bare from the very start, and ever so slowly, readdressing his thinking to court our empathy by the end. The actor is a magician at such character rejuvenation, and it's always a wonder to watch him in action: whether it's because Washington is very likeable in real life and we want his characters to redeem themselves, or because he has a natural gift at connecting us with his onscreen personality remains a mystery, but we will probably never tire of seeing him doing so. This is Washington's time to shine and a good reflection of how far he has come as an actor.
A lot of the supporting characters, though, seem to lack credible impact that it's sometimes hard to imagine Whip in reality realising the error of his ways based on their influences. Bruce Greenwood and Don Cheadle as the embattled allies in Whip's criminal case do an adequate enough job steering proceedings, but it's Kelly Reilly as fellow addict Nicole, the woman supposedly set up to change Whip's wayward ways who fizzles out of screen, only predictably to have a change of heart with Whip's public revelation at the end. Writer John Gatins is guilty of introducing characters necessary to the plot and Whip's enlightenment then leaving them subsequently hanging.
That said, not all of the supporting cast fail to fully convince. Tommy Kane as blunt, chain-smoking cancer patient Mark Mellon makes a highly impressive appearance in a short hospital scene, stealing it from Reilly and Washington. John Goodman lightens the mood, injecting bittersweet humour into the most perverse of situations as Whip's larger-than-life narcotics supplier, Harling Mays, without trivialising the process, but coming across as pathetic as his client and friend.
Indeed, Flight puts the immense Washington talent and appeal centre stage once more, but is a demanding watch with moments of reflection and stabs of dark humour. With a charismatic protagonist at the helm with very real, relatable problems and an Awards-worthy performance that can't be easily disparaged, it's bound to be another sure-fire hit for both actor and director alike, regardless of its other character development flaws.
4/5 stars
By @FilmGazer