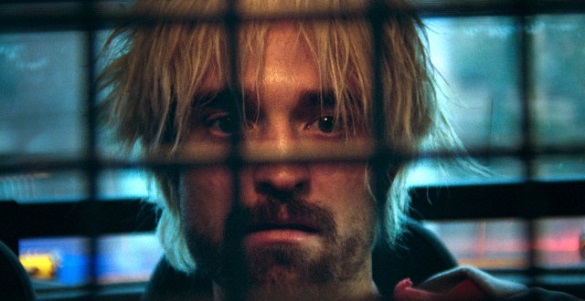 Robert Pattinson has come a long way from his Edward Cullen years in Twilight, having to carefully pick his roles as to throw off the vampire mantel. He has had some successes and some duds. However, with the Safdie Brothers' Good Time, an urban thriller on speed, he may just have done it. Its edgy pace and sense of 'in the moment' fixes makes the actor's underdog character Constantine 'Connie' Nikas not just an exhilarating one to try and keep up with, but a complete change from the normally laid-back Pattinson.
After a botched bank robbery by brothers Connie and Nick (Benny Safdie), the latter gets caught and jailed. So begins the desperate 24-hour countdown by Connie to collect together bail money and stop his mentally-ill brother from being sent to Riker's Island prison, where he knows Nick will not survive.
With its film noir nods, punctuated by psychedelic colour and energizing pop tracks, the Safdie Brothers take us on a journey through the underbelly of Queens – their home turf, with Connie as our unwilling guide. The gritty, hand-held production was often shot without filming permits – as is the Safdies' 'urban opera' style, further complimenting the whole affair.
With elements of Taxi Driver to it – the Safdies are working with Scorsese on a new film, there is a pressure-cooker environment waiting to come to boil. Unlike the 1976's cult classic, Good Time has moments of release, only for a split second, to show the idiocy/absurdity of certain events throughout.
At the heart is a criminal with a heart – thieves may not stick together, but brothers do. Pattinson's casting is a clever choice by the Safdies, who have pluck unknowns from the street to act. Pattinson embodies Connie completely, including clinching the accent. That said there is a softer edge to his hardened exterior, allowing empathy with his plight to filter through at times.
This is in stark contrast with Queens native Buddy Duress, a real-life, reformed felon who the Safdie Brothers cast in their earlier film, Heaven Knows What (2014). Duress plays Ray this time, a pathetic small-time crook who knows how to get cash quick for Connie. The fact Pattinson is so convincing opposite Duress in their scenes is credit to the Brit's complete transformation in this.
Good Time is a ride of the night, a pulsing, high-octane race against the main enemy – time. It may surprise some Pattinson's fans, but it will certainly hold him in greater acting regard by everyone who sees this.
4/ 5 stars
By @FilmGazer