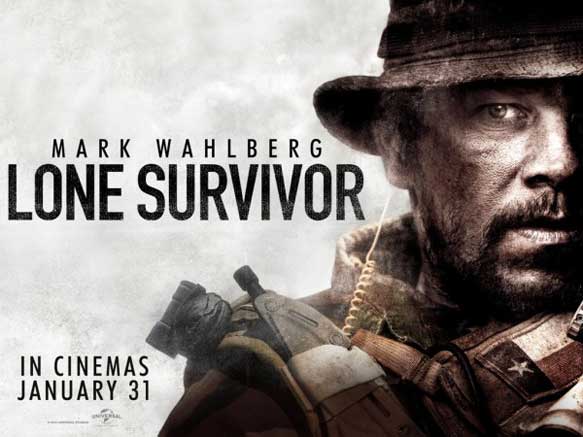 We've seen conflict in Afghanistan played out on the big screen before. What makes Peter Berg's gripping drama, Lone Survivor, a little different is the uncompromising assault on the senses that begins as soon as the four-man team of US Navy SEALs lands on a mountainside to monitor a Taliban stronghold. This film holds one of the most gruelling and exhilarating fights for survival where you are placed right in the thick of it on a rocky façade. It would be unbelievable if it wasn't based on a true story from former SEAL Marcus Luttrell.
In 2005 four SEALs are flown into a remote part of Afghanistan tasked with monitoring and identifying the activities of one Taliban leader and to dispose of the threat. Known as 'Operation Red Wings', it was doomed from when they first land as unbeknown to them their radio reception is hampered by the mountainside, which will be a final resting place for all but one.
The title and any knowledge of the real-life, ill-fated operation obviously gives the end away. However, this is not the intention of this film; it's to submerge and lock the viewer into an alien and terrifying existence. Berg totally achieves this with his use of handheld camerawork and point-of-view shots in the breathtaking, deadly cat-and-mouse game. There is very little respite every time it appears one of the team has survived for a single moment. It's also quite shocking the toll it takes on the soldiers' physiques, all because they are at the mercy of technology that fails them.
In addition to the harrowing true story behind the film and some slick directing that keeps you hooked, there is some superb acting that really expresses the unspoken bond that these men had. Mark Wahlberg as Luttrell, Ben Foster as Matt 'Axe' Axelson, Taylor Kitsch as Michael Murphy and Emile Hirsch as Danny Dietz successfully portray a flavour of the SEALs' personalities before the operation, enough for us to grasp how each man fits into the team, and during the fight for their lives under extreme pressure in 'professional mode'.
Indeed, it's been said that the film feeds the Afghan conflict's US propaganda machine, especially with the pictorial roll call of those real-life military personnel that lost their lives at the very end. However, this is tastefully done to reinforce the gravity of what we have just witnessed and the real lives behind the story. Berg also does not paint a black-and-white picture as such with some surprises on both sides in store. Lone Survivor is an intense adrenaline rush of horrific proportions that further sets Berg apart from other action filmmaker in his precision to recreate an all-consuming dramatic scene – one that feels like it lasts virtually the entire film in this case.
5/5 stars
By @FilmGazer