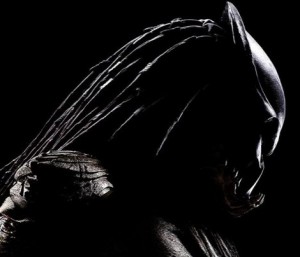 Can Adrien Brody pass as an action hero? Yes, he certainly can, considering the large combat boots he's had to fill, vacated by Schwarzenegger after the original 1987 film. As no-nonsense mercenary Royce, growling his way through this episode, Brody successfully plays totally against type, acting as one major factor that hooks you in and keeps you intrigued until the bitter end. The other massive advantage is the LOST-style beginning, where a band of sinful human bait land in an as-yet, unidentified jungle, helping to mimic the full potential of the TV series to spin the mystery along for as long as necessary. Sadly, the giveaway is in the film title that something has transported them there – Predators waiting to hunt. So, let the game begin…
The main thrill stems not from the haphazard killing scenes that include blasting away lookalike bestial extras straight out of Cameron's Avatar content bank, as well as gutting pesky Predators, but the human interaction and allegiances formed between the bunch of armed misfits that include the token, hard-nut Hispanic beauty, Isabelle, played by Repo Man's Alice Braga. The obvious love interest to Brody's Royce and screen eye candy, Braga embraces her role in much the same way as favourite Latin toughie Michelle Rodriguez does – another LOST veteran. Perhaps, for non-Predator fans, this is how this film is best marketed because the relentless threat of the invisible, Terminator-like Predators is slightly lacking this time around and the fun is gone. It's all about escape from the living hell – the question is how? Interestingly, in its place, Armoured director Nimród Antal has created a sci-fi feel, far more apparent than previous incarnations that retains the supernatural atmosphere and sense of stranded hopelessness.
Predators serves action-gore junkies well, with an array of guns, knives and kick-ass sequences to make sure the blood (both red and luminous green) intermingles with the jungle terrain. Predators is a very visually-pleasing film that many not thrill as much as the first because the illusive enemy is no longer a secret, but it gives the audience a solid pursuit adventure, complete with attractive and dangerously alluring characters. It even has time for a touch of graceful Samurai sword fighting between a Japanese Yakuza and a Predator in the swaying beauty of a crop field at night. For once in a film, knowing all about our characters is not necessary as the less we know, the more strength it retains, allowing the end twist to fully work – though some may try and argue that they saw it coming a mile off.
Predators is non-taxing, satisfying, action-packed entertainment that still manages to place more emphasise on its characters than previous editions, but without bogging us down with superficial details and dull jungle revelations, before each prize meets their maker. Has 'Fear Been Reborn'? Not quite, if we're honest, but claustrophobia and anxiety is rife, and this is Predators' adrenaline injection. Does the human prey ever get out – and alive? Like LOST, that's the big question and one worth lasting the duration to find out.
3/5 stars
By L G-K