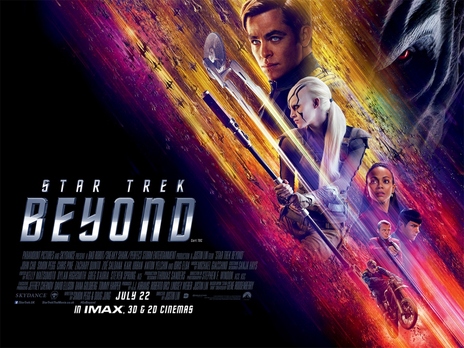 In a moment of irony right at the start of the latest Star Trek film, Star Trek Beyond, Captain Kirk (Chris Pine) admits things have started to feel a little 'episodic' aboard the USS Enterprise, angling for a desk job in Top Brass. This could be said of the film franchise, regardless of a J.J. Abrams reinvigoration of it in 2013.
This Justin Lin (of Fast & Furious directing fame) version keeps the series zinging along in its own nebula of cosmic chaos but grounds it with some compelling character relationships, plus a generous touch of nostalgia and fun.
When a rescued crew member reports that her ship has been destroyed and her crew taken hostage, James T. Kirk and his crew, Commander Spock (Zachary Quinto), Doctor 'Bones' McCoy (Karl Urban), Lieutenant Uhura (Zoe Saldana) and Montgomery 'Scotty' Scott (Simon Pegg) venture back out into space, but become stranded and divided on an alien planet. With no means of communication, they must work together to reunite and find a way to get back home.
The same cast returns three years on, having already convinced us of their credentials back in 2013, and not failing to engage us again with a solid combination of solidarity and fun. They are helped by a script penned by Pegg and co-writer Doug Jung, with the smart quips certainly having that trademark Pegg sarcasm.
The best lines are delivered by Urban as Bones, who comes across as the funniest, unfunny guy of the moment, constantly sticking his space boot in it with pure relish for us. Pegg naturally reserves some humorous lines for Scotty too, though assisted by an unusual comedy sidekick in Sofia Boutella as warrior rebel Jaylah who rebuffs his comments and is perhaps the most striking and exciting character in this episode.
Qunito's Spock still has an aura of understated wisdom and awe about him. The actor has made this iconic character his own, reiterated by the defining moment he hears news from home of his mentor (played by the late Leonard Nimoy). In fact, in a moving note, it's good to see the late Anton Yelchin back as Chekov one last time.
Idris Elba makes an appearance as the token baddie Krall, though is virtually unrecognisable until the very last battle scenes. Still, his character has a nice story arc, like all the others, allowing us to connect with them on a deeper level and care about their personal and collective troubles. Again, another success of the film is its big emphasis on 'team spirit', which doesn't require you to be a Trekkie or to have seen the other films to fully engage. It is a standalone space ride of thrilling entertainment.
With gravity-defying effects – some nauseating, like revisiting Nolan's Inception, this film's momentum carries you along in a whirl, while pausing to address a character's reaction at any single moment. This great marriage of sci-fi fantasy and characters we care about will guarantee the Star Trek movie franchise lives much longer and prospers.
4/5 stars
By @FilmGazer