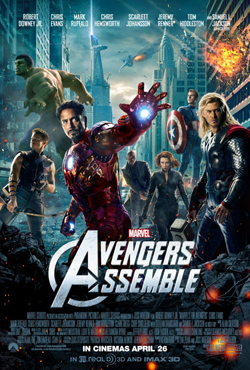 The wait is over, and it's been well worth it to see the likes of Iron Man (Robert Downey Jr.), Captain America (Chris Evans), Thor (Chris Hemsworth) and The Hulk (Mark Ruffalo) join forces with Black Widow (Scarlett Johansson) and Hawkeye (Jeremy Renner) in a superb superhero finale to save the planet. And opposite every hero should be a worthy component to do battle with – in this case, Thor's ego-bruised stepbrother, Loki (Tom Hiddleston). Director Joss Whedon's offering allows each Marvel member a chance to shine and retain their mighty personality, hence, going to satisfy fans of each character in the first of the big three comic-book films of this year.
Picking up from where each superhero let off, and merging the loose ends of the individual action films, Mick Fury of S.H.I.E.L.D. (Samuel L. Jackson) is spurred into action to form a team of super humans called The Avengers to help save our planet from Loki. Thor's adopted brother and arch nemesis has stolen the mysterious energy cube source previously located by Rogers – aka Captain America – called the Tesseract to use it to open the gates to his Underworld army of destruction. In a human world lacking any real fighting power, it is up to old-fashioned superhero tactics to get the job done.
Whedon's story not only reconnects us with each character but also finds the time to flesh out their strengths and weaknesses, with some wonderful paranoid moments of self-doubt that any average human feels among their peers when the pressure to perform is nigh. The co-writer/director – as with his Buffy the Vampire Slayer character – takes Russian spy Natasha Romanoff (Black Widow) out of the shadows of Iron Man 2, and transforms her into her own rounded character while injecting the feminine glam.
However, the stage is ever dominated by the charismatic, cheeky banter of Downey Jr. as arrogant but brilliant entrepreneur Tony Stark who playfully provokes each superhero colleague, usually for some greater purpose, while delivering the rapid-fire gags. His wrangling with Rogers is a childish schoolboy delight, but it's opposite Ruffalo as Bruce Banner attempting to control is larger, greener side that Stark's personality is fully tested. Some fans may take issue with the more communicative ball of green rage at the end of the urban battle, but it pays a certain respect to the great scientific mind within it.
Indeed, Whedon borrows his battle-torn city vista and flying, serpent-like alien fighting machines straight out of a Transformers film with a touch of Ghostbusters to it, with many moments feeling like déjà vu ones. However, with less visual clutter and more appealing action heroes to root for, and with some hilarious one-liners in the midst of total bedlam, there is far more to relish and savour, especially when The Hulk kicks into full swing.
Hiddleston stands his ground as vengeful Loki in the campest horned attire as one of the best and more multi-dimensional film super villains of recent comic-adapted flicks, so much so, that his part in this purely goes to re-emphasise just how disappointing Thor and his film's namesake was once more. Hemsworth may pack a hammer punch in his defence but he does little to rouse any more attention – upstaged by Agent Coulson (Clark Gregg), a likeable Marvel geek who merely replicates the fan boy/girl wanting to meet his hero (Captain America).
As Whedon shows due care and attention to all his players in this, there is another additional treat in the end credits that points to darker things to come and sparks whoops of joy from those in the know. Still, this film is more than enough and gives us a damn good comic-book fight as its superheroes battle their inner demons, making them as accessible and real as ever.
4/5 stars
By @FilmGazer