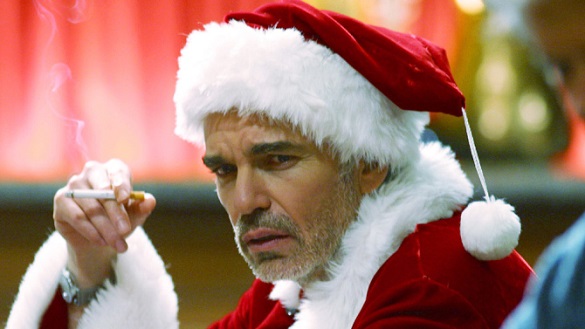 We've been waiting for a festive sequel for over a decade now, where we can gleefully revel in Billy Bob Thornton's sozzled loser Santa telling kids harsh life truths once more. However, we don't get to enjoy every adult's favourite wicked St Nick this time for a number of reasons – and it's not actually Thornton's fault.
This time, Willie Soke (Thornton) is about to put himself out of his miserable existence when another opportunity arises to make a crooked buck, thanks to old sidekick Marcus Skidmore (Tony Cox). Willie is reluctant at first because his former 'diminutive' partner in crime tried to top him last time, but the loot is too great to miss out on.
The hapless pair decides to rob a charity, but there's only one hiccup; Willie will have to play Santa again. Also, Willie discovers it's all his jailbird mother Sunny's (Kathy Bates) idea – who he has never liked much. Can he put their differences aside and don the red suit to get to the prize?
Robbing a charity at Xmas is a risky plotline to start with, especially trying to make it seem 'hilarious'. However, as wrong as that sounds, the biggest single issue is everything done to excess in this. There is too much swearing, too much shouting and too much Bates. Indeed, Sunny is meant to be as appalling as her offspring, but she dominates proceedings, and when she locks horns with Marcus, it's a competition to be the meanest, ugliest character in the room, making Willie almost a saint. In fact, Willie is drowned out in the furore, so we don't really get to hear him spout his poison.
Also, the Thurman Merman 'man child' character – who is much older and dumber and still played by cuddly Brett Kelly as in the 2003 film – just does not work this time around, short of squeezing a tear out of Willie. Thurman's wide-eyed innocence in the original flick brilliantly contrasted with Willie's nastiness. In this film, not only is he an afterthought, but an embarrassing attempt by the writers at rekindling the magic.
Christina Hendricks as pushover glam charity owner Diane Hastings must be a good sport as she merely fulfills all her fans' Xmas wishes here by being a horny, busty conquest for Willie – and little else.
Bad Santa 2 is bad, and for all the wrong reasons. It's definitely the biggest box office turkey this festive season, sadly, a shame as Thornton is very much still Willie in spirit.
1/5 stars
By @Filmgazer