Tiny Furniture ****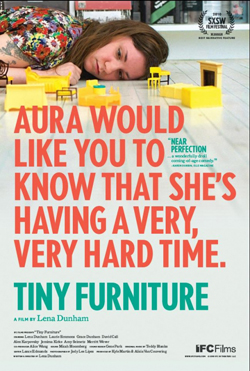 Fresh emerging talent Lena Dunham is cinema's female answer to Jesse Eisenberg, all self-depreciation, quirky awkwardness, acute observation and razor-sharp wit for the trendy crowd. Tiny Furniture, which she wrote and directed at the age of 23, is almost a semi-autobiographical look at the beginnings of post-graduate life, following on from her 2009 college days flick, Creative Nonfiction. This new feature film's authentic feel will ring alarm bells as Dunham's character Aura returns home to New York's trendy Tribeca, and attempts to carve our a worthy existence after student life.
Native New Yorker Dunham instantly taps into the fears of many educated masses out there today, expected to deal with stepping out of the further education cocoon – where ideas and opinions are healthfully encouraged – and slot back into reality's preconceived mould. However, Aura's home life is one that feels as challenging as it is comforting, surrounded by success and driven female relatives, with her studious younger sister Nadine – Dunham's actual little sister Grace – and renowned artist mother Siri (Laurie Simmons) who creates miniature furniture.
The film has no real sense of urgency, playing out like a pseudo documentary, and in turn, allowing us to be submerged in Aura's timeless limbo. We get to know her attributes and her flaws, as well as her own insecurities in such a sparse setting – the latter being a running joke with the apartment's many spurious cupboards that seem to hide away all homely comforts. The only human contact seems to come from snatched moments of hugging or sharing a bed with mum, sister or random strangers. There is another wonderfully comedic moment when Aura finds passion al fresco in a disused tube that sums up her spiralling sense of self-esteem and self-value.
What is a really interesting dynamic in the film is the sisters' relationship, as though Aura resents that Nadine has her carefree college days ahead of her. This is particularly more intriguing as the Dunham sisters could be recreating real-life resentments within the context of a film. There is also a brilliant breakthrough performance by newcomer Jemima Kirke – a Piper Perabo look-alike – as Aura's wild-child friend Charlotte who leads an equally dysfunctional and bohemian lifestyle. Aura, desperate to cling onto her irresponsible student days, uses Charlotte as a weapon to upset her household's equilibrium. In a sense, none of Dunham's characters are designed to be particularly 'likeable' – apart from Charlotte perhaps, and there is a selfish streak they all share. Here's predicting big things for Kirke who embodies Charlotte with fearless aplomb.
The issues in Dunham's Tiny Furniture could cut too close to the bone for some to watch in today's times of austerity, ironically making it such a topical microcosm of emotions with the uncertainties ahead. The film speaks to anyone 'waiting' for their opportunity in life, sardonically pointing out the obstacles in the way in a glib but naïve manner. Dunham really is writing from truth, and the truth hurts to watch on the one hand while entertaining on the other. Dunham can be rest assured her own career path is set after this.
4/5 stars
By @FilmGazer