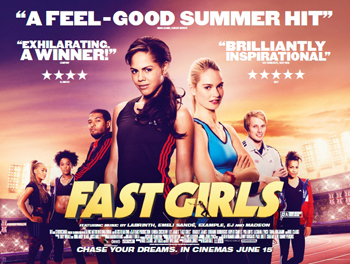 It's the classic 'underdog done good' feel to debut director Regan Hall's commendable Brit flick Fast Girls, appropriately timed to target and drum up interested in London 2012 among the youth – perhaps a difficult group to reach and market the games to. At the same time as being fairly obvious, plot-wise, from the very start as to the outcome, it's still an inspirational, feel-good film with some fun parts as we experience a real drive for success this summer.
Sprinter Shania Andrews (Being Human's Lenora Crichlow in her first lead feature role) is fast and good enough to compete professionally on Team GB. Trouble is, she's from the wrong side of the tracks with little family life to back her up and her dreams. After competing in a national trial, she finds she's placed on the British relay squad, but has to face bitchiness from daddy's little rich girl Lisa Temple (Lily James). But Shania's biggest problem is closer to home and threatens to jeopardise her budding career in the fast lane.
As with many homegrown films of late, Fast Girls is no exception in reminding us again of the disenfranchised living in the shadow of the Olympic site – and rolling out the class differences of the haves and have nots. However, without dwelling on these differences that naturally surface, Hall focuses on Shania as a beacon of hope and perseverance. Crichlow gives her usual believable, assertive performance with a flavour of bad girl to it, making Shania a fully flawed but grounded character worth rooting for.
Indeed, no London-based, street-wise story depicting gritty hardship and determination would be complete without an appearance from Noel Clarke, only this time he's a little older and wiser acting as embattled trainer Tommy. To be fair, the actor takes a bit of a backseat in this to let the girls shine. It's the sisterhood that has some solid substance to it and with its sporty topic, and will unite the genders. Newcomer Lashana Lynch as opinionated, overly confident athlete Belle Newman stands out as one to watch among some rather wooden acting by others.
Fast Girls is an energising offering depicting 2012's challenges and achievements while demonstrating that TV's Crichlow is a strong feature film lead worth investing in. The film's patriotic, lump-in-throat-inducing finale overcomes any thoughts of treading familiar Brit flick ground and obvious clichés.
3/5 stars
By @FilmGazer