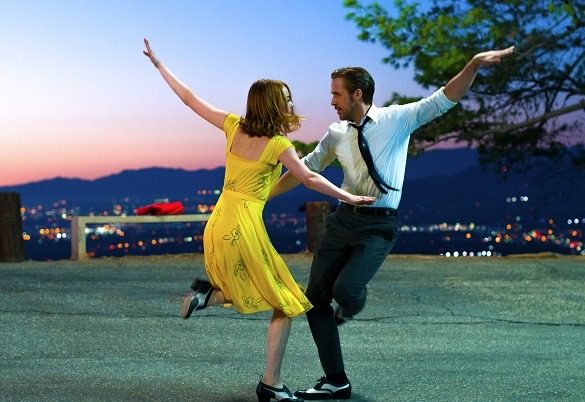 As a slice of cinematic bliss goes, you can't get better than Whiplash writer-director Damien Chazelle's latest musical offering, La La Land. Full of the joys and melodrama of the golden age of Hollywood, it's a love story of various passions set in La La Land, but with sobering modern sentiment. It isn't all happiness, but laced with moments of harsh reality. That said it is beautifully stylish and whisks you up in the lure of Tinseltown. It also puts a very flattering spotlight on its leads Ryan Gosling and Emma Stone, so no surprises there have been nods and awards a plenty.
Gosling is Seb, a passionate jazz pianist who is a total purist but keeps getting the 'bread and butter' gigs that cramp his style. Stuck in an LA traffic jam, he briefly meets his destiny, Mia, played by Stone, who is an aspiring actor with a barista day job in the heart of Warner Bros Studios movie set land. She almost gets to taste the sweetest of acting success, only to miss out every time. Another chance encounter sets the pair on a course to romance, but can it survive the pressures of their own true passions, jazz music and acting?
La La Land plays out like a dream from the start, without being overly schmaltzy. This is thanks to the reality check it injects when things get a little too cosy. It's an ode to the likes of the 'Singin' in the Rain' era of cinema, complete with a similar dance number in the Hollywood Hills. It's infectious and causes a good deal of toe-tapping and knee-jigging, without the need for its leads to burst into song all the time. There are respites of pure, vibrant jazz to enjoy that attempt to educate us – like Seb tries to do with Mia in the story. In that respect, it's a highly sensory and all-inclusive film, whether you like musicals or not.
Gosling and Stone rift off each other superbly – and not just in song and dance, but actually the comedy moments: Mia teases Seb about his imposed choice of music gig to make ends meet. This gets sourer as the relationship progresses and careers take off, adding a very intriguing story arc that gradually creeps up on all and becomes totally consuming.
The overriding feeling of the film is of living in a parallel universe to your dream that's within reach but just out of grasp too. It's that lack of actual control that really resonates for anyone watching, especially when we are forever told about making bright new beginnings happen with each New Year that arrives. The film cleverly has you reassessing your life without knowing it and without patronage, making it all the more poignant and affecting.
It's not perfect. There are brief moments of banality, pockets of the film that are easily forgotten weeks after viewing. However, La La Land offers a kind of therapy in a cold, unsure world, a guaranteed spiritual boost. It's a film you will remember for how it made you feel, rather than for any meaningful storyline, especially with the haunting piano solo by Gosling's Seb at the end. The fact that there's nothing quite like it at the box office at the moment also makes it a wonderful alternative too, with no special effects (alright, we know Gosling and Stone can't actually fly), no animation, no widespread urban destruction, just 'staged reality', one of La La Land's most compelling contradictions.
5/5 stars
By @FilmGazer