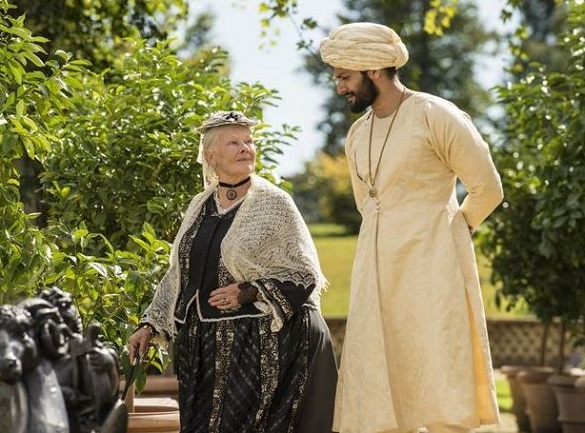 Stephen Frears' period drama Victoria and Abdul about an unlikely friendship at the heart of the British monarchy, set at the end of the 1800s, is as topical now as it was controversial back then, with prejudices threatening unity between races. Frears tackles this by ramping up the pomp and circumstance to the point of absurdity that the story has plenty of highly hilarious moments and reactions to those events.
These circus scenarios buffer the real tragedy of a desperate need for human connection. Queen Victoria to many commoners appeared to have the world at her feet. Her Indian attendant Abdul Karim acts as the 'whistleblower' showing there was more life outside of the confines of the royal household. This is the story's aching heart that beats through the delightful frivolity.
Returning as Victoria – after Mrs Brown (1997), Judi Dench knows her queen very well, stepping into an older version of her character with ease and empathy for Victoria's 'caged bird' existence. Although not 'funny' in herself, Dench's po-faced performance as Victoria, especially at yet another formal meal is the stuff of great British cinema. Dench forever commands authority on screen and captives her audience, like many of her characters, including M from the Bond movies. As with the former, Dench is a master at breaking down her character's stony façade to let the real human being inside shine through, piece by piece, as she does here.
This witty and energetic romp – that plays with historic facts somewhat – is even funnier, thanks to the supporting cast of scheming, bigoted 'fools', played by Eddie Izzard as Victoria's son Bertie, Paul Higgins as Dr Reid, Tim Pigott-Smith as Sir Henry Ponsonby and Olivia Williams as Lady Churchill. These big screen and stage players are utterly brilliant as they try to cling onto the formalities of the crown that have seen them pampered, all the while reflecting the prejudice against other races and religions that speaks volumes today.
Adeel Akhtar of Four Lions fame expertly delivers his own brand of po-faced scorn at the whole fiasco that faces him on privileged British soil, contrasting delightfully with Ali Fazal's Abdul's child-like wonder at the new opportunities his 'servant' position brings and in turn 'wakes' the queen from her royal sleepwalk. Frears initially paints these two as 'fish out of water' in the opulence of 19th century England, like an Indian Laurel and Hardy. However, as the story unfolds, they adapt and become the sanity (and breath of fresh air) that Victoria craves; in fact the voices of reason. It is another dig at the royal establishment by Frears who admits he is a Republican, but he obviously is still sentimental towards the queen – as per his 2006 film The Queen that won Helen Mirren an Oscar.
Victoria and Abdul is enchanting British drama, blending laughter and sadness that once again, cements Dench's mastery in such roles, even if it bends the historic truth.
4/5 stars
By @Filmgazer