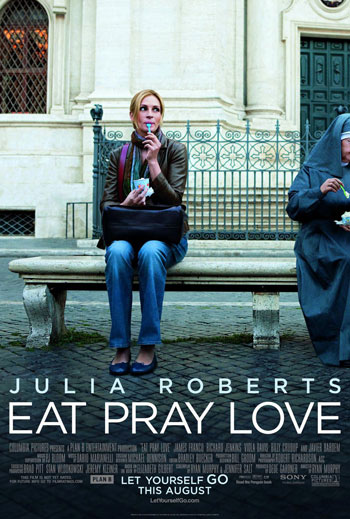 A film adaptation of a popular book held dear to many loyal fans, globally, is always a difficult feat to pull off, considering all the nuances and thought processes involved in the latter. So, the honest true about Eat Pray Love: Ignore the cynics out there, many of whom haven't even read the book, let alone finished it: this is not a bad film. Nevertheless, it could have been much better as there are some elements to the plot that are not fully explained to the uninitiated. Also, and to be perfectly frank, if you aren't female (of a certain age) and appreciate the hidden talents of Sex and the City sisterhood, this film is hardly going to grab the attention. It also won't have as great an appeal on those fully content with their lot in life. But what this film does achieve is a sense of worldly wonderment and karma in some stunning spiritual places around the globe, even if it does fall pray to being a tad smug and unintentionally preachy at times: Is the only way to be a 'whole person' to run off to a retreat in remotest, mosquito-infested India, or mingle with wise, old, toothless gurus in Bali – if only we had the opportunity…
That said Eat Pray Love does allow us to take stock of where we are in our lives and contemplate making some much needed changes, and in ever turbulent financial situations at present, this story reaches out to those it needs to nudge, regardless of whether it's conclusions are right or wrong, almost like a wise old friend, giving you the gentle encouragement to embrace change. So, my cynical friends that cry tedium at this decidedly lengthy dramatisation, is that really such a bad thing? Having a character do the leg work and research on the road to the meaning of life, while getting a front-seat cinema ride seems like good way to spend a couple of hours? Admittedly, this film could have done with a trim, or two, and a few less clichés in its script and 'dream' sequences, but like the film's celebrated and ancient place of love, Roma, people like old-fashioned and predictable romance, even if the story will enrage feminists out there, suggesting that the only path to true happiness is with a man – as advised by a man (the toothless guru).
Julia Roberts plays the lead 'pioneer' and character of the book, Liz Gilbert, a travel writer who feels stuck in her marriage and privileged lifestyle in New York (boo hoo) and longs to feel alive once more. Gilbert admits that she has never been without a man supporting her, emotionally – making the moral of the story that she needs love (i.e. a man) to achieve life balance slightly ironic. Feminists 1 – Traditionalists 0. That said there has never been a better-suited part in recent years for Roberts to encompass – and she does so with great aplomb. She embodies Gilbert and really lives her ups and downs in a convincing way that will appease fans of the book. The actress has actually never looked better, too, simply glowing with health and vitality in the role. Opposite her as her ultimate love interest is the Hispanic seductive charms of the delightfully mumbling Javier Bardem as wealthy Brazilian ex-shipping magnate Felipe – the feminists' eyes raise to the ceiling again because this suggests that a woman will be fine, providing she ensnares a wealthy, hot man. The fact that Bardem is incomprehensible at times is by the by – he looks relaxed and charismatic and is a weeper (resounding female sighs).
The stellar supporting cast also includes Six Feet Under's Richard Jenkins as 'Rich from Texas', a broken soul who Gilbert first dislikes in her Indian retreat then finds a kindred spirit in him, and James Franco as the younger artist/actor David Piccolo who appears to be the opposite to hubby Stephen (Billy Crudup) but is actually equally emotional. The fact that Gilbert gets all the men she encounters to open up is surely a feat of womanhood strength in its own right?
Perhaps all who watch this can appreciate the moments of 'food porn' in Roma that cause dribbles from the mouth and rumbles from the belly – be advised to have a meal beforehand as this is not a film to watch on an empty stomach. It's a shame that summer is up, too, because this adventure will have you rushing to book one last trip to the sun.
Eat Pray Love makes for a decent girlie night out of escapism and female bonding – kind of like the impact of a SATC film, but with only one woman's issues to deal with, instead of four. And like the characters, it's by all means not perfect and rather nauseatingly predictable at times, but as it's a true story, all is eventually forgiven and accepted. Whether Liz Gilbert's story is affecting remains to be seen but it is one of many inspirational ones that was crying out for cinematic translation, and those not familiar with the book will find ample satisfaction from this.
3/5 stars
By L G-K