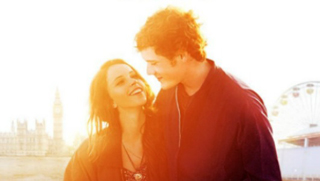 Relationships are hard enough without visas, stretches of water and time differences standing in your way. Writer-director Drake Doremus's new romantic indie drama, Like Crazy, tackles the tricky issues faced by any fledgling couple, in addition to trying to keep love alive while separated by two continents.
British college student Anna (Felicity Jones) is coming to the end of her summer term at an LA university, but has fallen for American student Jacob (Anton Yelchin), and the pair cannot bear to be parted. She decides to stay the summer, overstaying her student visa. When she returns to the UK then arrives back in the States, she is banned from entering the country. Can their long-distance love survive, particularly when both have established lives on two continents?
Doremus's style of film is very much improvised, much like watching a pseudo-documentary about the perils of flouting immigration law. Although sweet at the start, it also feels quite claustrophobic, as if we are a 'prying voyeuristic eye' – like Big Brother – on the couple in their more intimate moments of passion and conflict. Jones and Yelchin initially explore their characters' intense feelings fully on camera in a touching, yet anxious and cautious manner, without all the slushy beginnings of more traditionally set romance dramas. Doremus and Ben York Jones's script does not shy away from portraying the more mundane or awkward times in a relationship, in addition to the blissful ones.
As the story progresses, and further obstacles present themselves, you get to witness the stresses and strains on their relationship, even when Jacob is reunited with Anna and trials living in London because of her blossoming career. Everyday life permeates the foundations of good intentions, highlighting the cracks and social differences between the pair, and it's an emotional rollercoster that the couple always find themselves riding. The believability of their struggle is largely down to Jones and Yelchin's naturalistic style of acting – the latter no stranger to playing intense and tortured souls within an indie context. Their engaging rapport is what fuels the story's authenticity that they manage to construct almost effortlessly, and sometimes without words necessarily being spoken.
As the romance takes different twists and turns and some dead ends, Doremus's modern-day Shakespearean tragedy is a thing of both beauty and danger; there is one point when you wish the pair would part ways, if only for their individual sanities. Nothing is easy to stomach in this, even in the couple's happier moments that will undoubtedly unravel if left unmanaged.
At the same time, there are irksome moments of overindulgent pondering from both parties, particularly as when they are apart, the story is effectively more interesting. It's also hard not to take the moralistic high ground and say how daft, almost arrogant Anna is for not just returning to the UK and waiting it out for 2-3 months, before she could have easily got another visa and returned Stateside – and without all the hassle. In a sense, the narrative then has to keep finding more reasons to convince us of why this couple should be together, especially when Jacob finds an attractive and available partner in Sam (Jennifer Lawrence) which detracts from witnessing the separated lovers' true feelings. The inference that both are 'creative' beings almost justifies some pain and suffering, but if this is the case, it stands as a poor justification for them being together.
Nevertheless, Doremus uses the talents of his leads to full effect, constructing sure-fire career highlights for both Jones and Yelchin in Like Crazy. Yelchin gives nothing new in this, playing to his obvious strengths. Sadly, however ethereal at times, and brave of Jones, you cannot help but crave a little more Jones sardonic wit, much like the other feisty characters she has played. Indeed, the fact that Anna is so foolish to start off with and seems not to learn any valuable lessons as the story continues – even allowing for her being led by her heart – goes against the usually smart and assertive screen persona Jones has successfully created for herself and is admired for. Whether Like Crazy is a love story in tragic honest or not all, all depends on you rooting for Doremus's characters from the beginning.
3/5 stars
By @FilmGazer