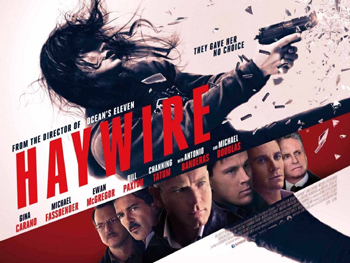 The Girl With A Dragon Tattoo has done wonders for fighting fit females on screen recently, and any nimble, fearless female protagonist giving male counterparts as good as they get still fascinates audiences. Real-life Muay Thai Record holder Gina Carano who stars in new action thriller Haywire, directed by Ocean's director Steven Soderbergh, appears to play another peeved brunette with a sociopathic tendencies, but transcends the 'unhinged' bracket because Carano's mixed Martial Arts background makes her one of the most credible screen fighters in recent years: Think a 'female Steven Segal'.
Carano plays Mallory, a black ops super soldier and ex US Marine who is hired to rescue a kidnapped journalist in Barcelona, but soon realises that her next mission is a deadly setup by the very people she trusts. She seeks payback for the betrayal.
Haywire is very much a Carano introduction: Although the choreographed fight scenes have been seen and done before, Soderbergh's camera remains faithful to the sheer athleticism involved, never using choppy editing, whip-pans or gimmicky Kung Fu film moves to emphasise the action – it just captures the scene like an invisible spectator. In this sense, Carano's gut determination and brute strength seem more realistically portrayed, as though you are witnessing a genuine and equally matched fight. Like a professional wrestler or Bond girl, Mallory has killer thighs as a secret weapon, which heightens her sex appeal, but without trivialising the danger of the situation at hand.
Coupled with a solid build, feminine curves and good looks, Carano as Mallory is the ideal anti-heroine to get behind, a contemporary woman's woman, and such is the enthralling show she puts on, it's almost disappointing when the final scene plays out. And as if to run rings around Lisbeth Salander's fine efforts, black-leather-clad Mallory handles a motorcycle equally well, and is far more reasonable and likeable too.
Soderbergh combines his real-life action with slick Ocean's-style, 60s-music-driven setup scenes to add the glamour. In fact, the film's precise pacing never drops the ball or wastes any valuable time or action – even in the supposed downtime between jobs – keeping you engaged. Soderbergh also has a flair for making his cast look super cool, and with such a stellar turnout adding their magic touch to this, including Michael Fassbender, Antonio Banderas, Michael Douglas and Ewan McGregor, even the most disagreeable character gets a few minutes of screen magnetism before their fate is sealed – plus for fans of Shame, Fassbender doesn't disappoint in the flesh quota.
Mallory may easily be labelled 'a female Bourne' in some of the international, high-pressured chase scenes, and have her work cut out with the Salander allure at the box office, but Carano and Soderbergh have actually created a possible franchise in the character – like a tangible Lara Croft: Mallory is more human, more accessible and more creative in her missions that Haywire is certain to be Carano's key to bigger notoriety and success – probably because the actress has actually seen real live action in her time.
4/5 stars
By @FilmGazer