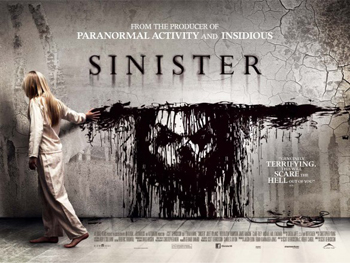 Its blood-splattered poster, complete with promises of 'genuinely scaring the hell out of you' depends on your previous encounters with spooky goings-on in condemned houses. Sinister by The Exorcism of Emily Rose creator Scott Derrickson, in summary, certainly puts the 'creepy' back into four domestic walls, but the horror tick boxes of bumps in the night, leaving lights off to investigate, and decaying faces of those damned have been done to death before that it initially feels rather 'same-y'. In fact, there is more to it than first meets the eye, and the exploration of curiosity that certainly kills the cat.
In Sinister, true-crime novelist Ellison (Ethan Hawke) again moves his family to another gruesome location to start writing on his next book, much to the distaste of a local law enforcement chief. Unbeknown to his loved ones, they have moved to Spooks Central, cursed by a strange demon that feeds off young souls through interacting through image. After finding a box full of supposed home movies left in the attic, Ellison's very own nightmare begins…
Sinister is certainly well shot in style and design for a film centred on moving image technology. However, it relies heavily on loud punctuating effects and musical moments, partly unnecessary to guide us through, when heightened creepiness could have been achieved with far lesser effort. That said there is a good pace to the film as the mystery of the family deaths is given the space to unfold. The film continuously questions reality from fiction, as well as the protagonist's state of mind, throwing in a couple of interesting twists to the paranormal norm. It may also take another viewing to decipher all the visual pointers throughout as the key to what is happening.
Part of Sinister's success is down to a strong lead from Hawke whose mental torment and pressure to perform (plus all-day boozing) as Ellison mirror that of The Shining's Jack Torrance: Ellison is eventually portrayed as more of an initial threat to his family than any supernatural presence. Indeed, there are moments where you wonder what are figments of the writer's imagination that keep the whole thing fresh; what are consequences of his insomnia and obsessive work ethic? In this sense, it's not so linear just about the grizzly mystery but also about the effects on a character's being. However, Derrickson is wise to keep us empathetic too, painting Ellison as a flawed, sometimes helpless individual while moving the mystery along to conclusion with added tension.
Sinister works as your average Paranormal Activity-styled flick (produced by the very same producer), coupled with an interesting, if surface-level psychological study of what is deemed supernatural and what is actually the mind working overtime. It has all the tension, shocks and gory detail of the genre with lots of horrific visuals, but does not forget to explore these effects on its main character, which makes it an intelligent horror watch for fans.
3/5 stars
By @FilmGazer