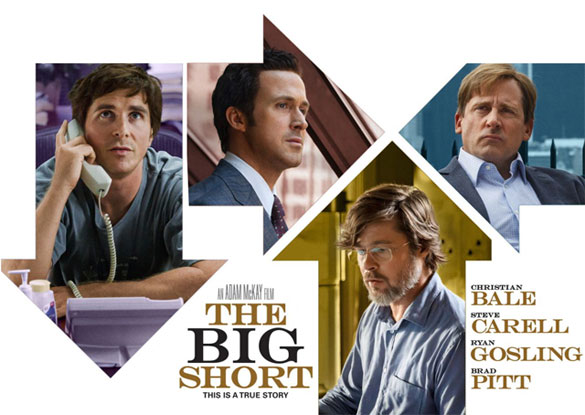 Let me tell you about the 2008 banking crisis… Listening. It all starts with the misselling of dodgy US subprime mortgages… Switching off. It's what the likes of informative 2010 documentary Inside Job, narrated by Matt Damon, tried to do – and failed for the mass audience. So unless you have one iota of curiosity in the technicalities of the financial crisis – or are just plain livid at banker power, even the lure of a A-lister storyteller could not make you take your cinema seat at the time.
However, writer-director Adam McKay – the other half of the Ferrell-McKay writing machine behind such films as Anchorman and Talladega Nights – may have found a way to explain the banking blurb and its absurd workings with super-slick and wickedly funny dramedy The Big Short, complete with narrator who 'reads/answers your inner thoughts'. McKay enlists the help of other Hollywood big hitters Christian Bale, Steve Carell, Ryan Gosling and even Brad Pitt to portray real-life city folk who cashed in on the foreseeable Armageddon for the US economy.
After eccentric ex-physician turned hedge fund manager Michael Burry (Bale) predicts the US housing market's bubble will burst when subprime lending goes sour, he starts betting against the market with the big banks. They think Burry is mad and are only too happy to accept his proposal, as the mortgage market has always been a sure thing.
Deutsche Bank's Jared Vennett (Gosling) gets wind of Burry's crackpot idea, and strikes a deal with traders from FrontPoint Partners, led by Mark Baum (Carell), an idealist who is fed up with the corruption in the banking sector. Meanwhile, a chance find in an investment bank lobby puts novice investors Jamie Shipley (Finn Wittrock) and Charlie Geller (John Magaro) on the scent too, but they need the help of 'zen' ex-trader Ben Rickert (Pitt) to make a bid. All the players now have to do is wait for the market to fall.
The financial jargon is made simpler by the distraction of actor Margot Robbie sipping champers in a bubble bath while explaining what derivatives are, while TV chef Anthony Bourdain uses cooking parallels to explain traders 'cooking the books'. The end result is still slightly long in areas – enough to make you begin to drift, until someone says or does something outrageous to bring you back on track. The latter doesn't take that long either. Just like its anti-heroes (those going 'short'), the film takes no prisoners as it thunders along with the momentum – and banter – escalating as the heat is turned up. The Big Short is aimed at The Wolf on Wall Street fan for both sheer decadence and outright worshipping of greed.
Bale, Carell and Gosling each play very different Wall Street men with aplomb. The most surprising, against-type is Carell as highly stressed, socially-inept basket case Baum who likes to shout at people, wherever and whenever. Bale is a triumph as equally antisocial hedge fund manager Burry, a victim of his own brilliance. In fact, all in focus here, from Wall Street to ex-college bright kids Shipley and Geller, don't have it easy, creating albatrosses of mounting debt around their necks until 'pay day' arrives. As they secretly sweat, it's fascinating to witness how the different personalities cope in their own ways with one common goal ever in sight: money.
The sleaziest rogue resembling a DiCaprio-Belfort character is Gosling's suave but unscrupulous banker Vennett. Although slippery, ironically, he's Baum's genie in the end, granting his team's wishes, even when they wish they could re-cork the bottle. However, Vennett is far from the hero of the hour either. In fact you don't actually like any of them, but you can't help admire their audacity and secretly revel in their power to attack the banks' collective arrogance. It's like backing the better of two evils.
The Big Short enlightens, appalls and thrills in equal measure. It does rely on a modicum of interest in the banking crisis and its causes and effects, but it has far more opportunity to grab an audience's imagination with the all-star cast it delivers, the financial lingo translated, and the likes of The Wolf on Wall Street (2013) paving the way to our collective outrage/titillation. Banking on screen never had it so easy in the last few years.
4/5 stars
By @FilmGazer