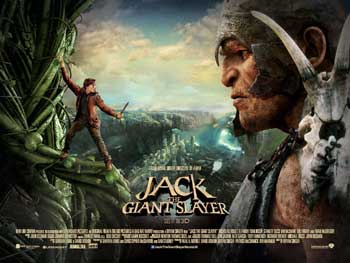 It's fairy-tale time, another favourite ideas pot that Hollywood likes to dip into around the holidays to produce a film in time for family viewing. This time it's the turn of Jack and the Beanstalk, a tale of man verses giant that should whet the appetite of any potential cinemagoer with a longing for some adventure and grand imagination.
Both of these elements are present in X-Men director Bryan Singer's Jack The Giant Slayer, expect the Hollywood production values are a little ropey at times in the CGI department when it comes to our thundering bad guys who menacingly drop from the clouds via great, tangled beanstalks: This film is understandably 12A in rating as little ones would have nightmares for weeks after at these mythical monsters, especially two-headed leader General Fallon (voiced by Bill Nighy). It's also peppered with 'bad language', more so than other family-centric films of late.
The story follows orphan Jack who used to believe in the story of the reign of the giants as a small boy before they were banished by magic to the skies. All grown up, dreamer Jack (Nicholas Hoult) is tasked with selling his Uncle's horse at market but ends up exchanging the animal for some special beans given to him by a desperate monk on the run who tells him not to get them wet. At home, a careless Jack loses one bean through the floorboards, and after a blustery wet, nighttime visit from a lost crowned princess Isabelle (Eleanor Tomlinson), things start developing faster than Jack can say 'beanstalk'. Through this error, the giant's gateway is re-opened again, and old scores between man and giant come to a head. It's time for Jack to come of age and prove his worth.
The film's lead, although played as perfectly average 'boy next door', faults and all, Hoult as Jack has his less convincing moments in such a dynamic part that perhaps needs a little more theatrics. Still, Hoult's good-natured humour and cynicism plugs some of this lacking, so it's hard not to root for him overall. One of the film's great advantages is having Hollywood funds behind it, but still retaining its Britishness, thanks to a great, predominantly British cast who really ham up the panto. Perhaps having the most fun is Ewan McGregor as King Brahmwell's (Ian McShane) knight Elmont who features in a 'pigs in blankets' sketch that's highly amusing – much of the story is predictable so it's these witty moments that keep things interesting. Singer may well be American, like his other star Stanley Tucci as the scheming, power-crazed villain Roderick, but both adopt all the English eccentricities and characteristics to keep this grounded and rather quaint.
Although the main giants are voiced by the likes of Nighy etc this is where real-life action and CGI green screen acting don't quite add up in parts, leaving dubious eye-line errors and rendering the whole production value of the fictitious brutes a little too '2D Beowulf in design' to be really convincing. This 'sketched' style affects the 3D experience and reality of giant beings on earth. Still, there are some thrilling moments, such as when the monsters chase the King's men on horseback.
There is also the question of the regular continuity errors, like the ever-changing costumes that make proceedings rather amusing to observe: Check out Isabelle's attire on first encountering Jack's humble abode that fateful night when the beanstalk springs into life. Then there's the magic cat that appears in the house then miraculously outside of it after the overnight growth, not to mention missing floorboards. Where's Jack's uncle disappear to in such bad weather? Minor things before even getting to the giants' kingdom… Admittedly, some of the flow could have ended up in the computer editing bins but it does become an unintentional game of 'spot the difference' between shots.
Jack The Giant Slayer is ultimately panto with a great cast at its heart that exudes fun, so it makes for entertaining and comical viewing – albeit nothing new and if you can put technical issues aside for the 114 minutes and endure the fart jokes.
3/5 stars
By @FilmGazer
Watch the trailer here