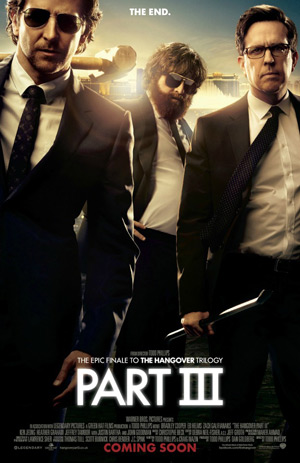 If your idea of humour is a giraffe causing chaos on a motorway then continue… If, as Phil (Bradley Cooper) puts it, "what am I watching?" soon pops into mind, revisiting the Wolfpack on another trail of carnage may make you wish you'd stayed at home. In episode III, writer-director Todd Phillips tries in vain to rekindle some of the bromance of the first, with nods to moments in the first and second, as well as emphasis on the importance of good friendships. Sadly, this sorry saga offers one of the most farfetched story lines of the lot, with John Goodman attempting to pass as a baddie being less than convincing.
After Alan's (Zach Galifianakis) behaviour gets more erratic and his family arrange an intervention, Phil (Cooper), Stu (Ed Helms) and Doug (Justin Bartha) volunteer to take their mate to get help. But on the way, the Wolfpack come a cropper with some bad guys who demand to know the whereabouts of Mr Chow (Ken Jeong) who has ripped them off. Taking poor Doug once more as collateral, gang leader Marshall (Goodman) gives them three days to find the 'international criminal' Chow or Doug bites the bullet.
The first film worked because it was clever in reversing the unravelling of events – in a sense it goaded us into finding out more and sticking with the outrageous to unveil the clues. The icing on the cake was we thought we'd got the whole picture only to be treated to some more during the end credits. The main problem with this film is the same as the second one: emphasis on Alan's character to provide the majority of the laughs, especially as playing on his obvious disabilities in the second came across with mixed reviews and uncomfortable laughs. That's not to say that Galifianakis does not play Alan with a lot of innocent charm and appeal that it's hard not to endear to him, but it's a tough call to drag this out over an entire course of another film. Indeed, Alan does do a bit of growing up in this and all comes good in the end, with a little bit of help from Melissa McCarthy who is wasted in this.
Phillips also tries to cash in on Mr Chow, the foul-mouthed little fellow from his first two films who has (somehow) now become Alan's best pal. His short bursts of screen energy to match his crazed behaviour worked with the first, but being exposed to him for longer periods waters down his shock tactics in one of the daftest plots that we're supposed to subscribe to. Even his potty mouth is not as funny this time.
With two of his characters losing their original appeal, there's not much for Phillips' other two (as Bartha is hardly used in this too) to cling to for laughs. Admittedly, it is a chance for Cooper fans to coo over their blue-eyed boy – and there are also some very strange male attraction references insinuated and peppered throughout that go nowhere. Even the reappearance of Heather Graham as Stu's stripper 'missus', Jade, from the first film is shortlived and rather pointless in fact.
It all boils down to a very miserable finale to the ultimate party that ends where it began. It's like being in the company of a once cool bunch of dudes who have run their course and worn themselves out. The funniest part is after the end credits that propels you straight back to your very first feelings watching the original film and the fun had at witnessing the pieces of the puzzle fit together. The trouble is you have to pay your money to sit through the former. That said it's warmly nostalgic to say goodbye to the guys but it's anyone's guess if they'll be back – preferably in a far better written scenario.
2/5 stars
By @FilmGazer