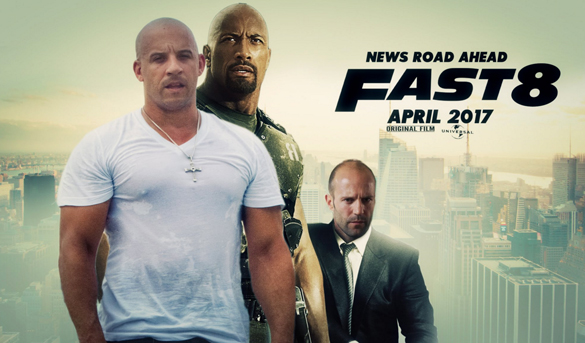 As much as we all miss the late Paul Walker as the all-American boy Brian in the car-chasing series, Episode 8 proves the franchise hangs on muscle – in the human and auto sense, driven by Vin Diesel's camp posturing as car nut Dom Toretto. It has even bigger biceps as Dwayne 'The Rock' Johnson flexes the ever-expanding pecks again as law-enforcing Hobbs. But as Toretto always says, it's 'family' that keeps it together and the momentum on track once more, in more wittier ways than before.
When mysterious cyber villain Cipher (Charlize Theron) forces Toretto to join ranks with her against his 'car family' of wife Letty (Michelle Rodriguez), Roman (Tyrese Gibson), Tej Parker (Ludacris) and newbie member Ramsey (Nathalie Emmanuel), the merry band join forces with Hobbs and unlikely ally, former nemesis Deckard (Jason Statham) to find rogue Toretto and stop him in his tracks. The question is what hold does Cipher have over him?
The latest saga has all the required throbbing engines, nubile ladies wearing 'belts' as skirts, sneers and jeers and testosterone-fuelled racing to prove a point that any fan expects. It also has the gravity-defying stunts, including the series' most crackers one yet that involves breaking ice and Russian military hardware. Director F. Gary Gray is new to the F&F directing chair, but has stayed loyal to the franchise's style that there is no obvious difference this time.
With a nice subtle nod to Brian when Toretto goes AWOL, the rest of the characters behave as billed – even Toretto in his new compromised position. The actor, who steals every scene he's in though, is Statham – drawing on his comical turn in Spy (2015) and a blend of his Transporter/Expendables/Mechanic/Crank roles all in one gravelly delivery. The actor is certainly getting softer in his old age, the hard edges to his characters smoothening out – even with Deckard. Strangely, you will grow fond of him in the end.
Fans can expect a couple of old faces popping up throughout from previous escapades too – they just refuse to go away, nicely illustrating previous plots' relevance to current events, so there is a lot of thrills to be had there, in addition to the collateral damage.
Get on board again for the ride with Version 8. Expect nothing new, just bigger, dafter ballsier fun with egos the size of tanks on the loose. This latest film just adds more fuel to the saga's tank and keeps it running. Paul, you'd be proud.
4/5 stars
By @FilmGazer