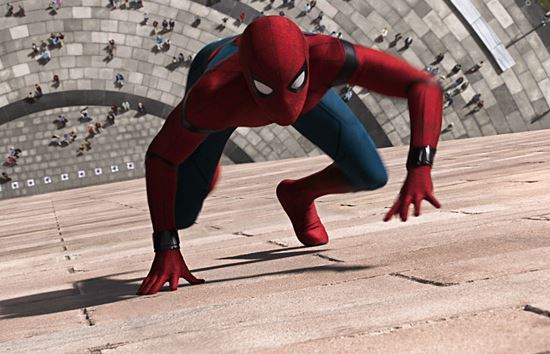 Everyone who is interested in Spider-Man (and Marvel) films is looking forward to seeing new Spider-Man, Tom Holland, going solo on screen and in action. Thankfully, Holland held his own in last year's Captain America: Civil War and he doesn't disappoint in Homecoming.
Peter Parker/Spider-Man's nemesis is Vulture (Adrian Toomes, played by Michael Keaton), who is also related to Peter's love interest. Toomes has built a lucrative weapons empire that involves an alien power source, with all weaponry sold to the highest criminal bidder. Wanting to prove to his mentor, the great Tony Stark (Robert Downey Jr.) that he is Avenger material, Spider-Man goes after Toomes/Vulture, while trying to juggle life as a high-school student, with best friend, nerd Ned (Jacob Batalon), with being a superhero.
Homecoming is packed with fun and big action, and has some brilliant lines. The reason it works so well is Holland is as cheeky-chappie and quick-witted as big-timers, Keaton and Downey Jr., thanks to some great writing from Jonathan Goldstein and co. Admittedly, Andrew Garfield paved the way with a more 'playful' Spider-Man character, but Holland's version feels less 'troubled' and more proactive like a meddling, naïve youngster should be. This nicely compliments Stark's infantile antics, and actually renders the latter (almost) a 'grown-up' in this. That said an old flame makes a fun appearance half-way through and reinforces Stark's unpredictability that fans so love.
There is also just one superhero in action verses an almost retro bad buy in Keaton's character that doesn't result in Marvel hero fatigue half-way through, with superpowers verses superpowers clashing. Here, it's man (with webs, admittedly) verses man with gadgets. Therefore, the battles feel more bruising and energizing.
Cop Car director Jon Watts – who takes the directing helm for the first time here – has brought out Spider-Man's human vulnerabilities, but rather than dwell on these like a Garfield-era hero would have, Holland's incarnation refuses to let them get the better of him. In a way, it's a little like watching Kick-Ass self-destruct at times but get back up again. Keaton is always better playing the villain – even his Batman was unhinged. It's what the actor is best at and he can indulge once more here.
Along with some explosive action set-pieces, the well-crafted Homecoming is one of the best Spider-Man films yet, ending with one of the best lines of any film in a long time that will have you chucking a long time after. Stay for the 'infomercial' during the end credits too, for a little more Marvel titillation.
4/5 stars
By @FilmGazer