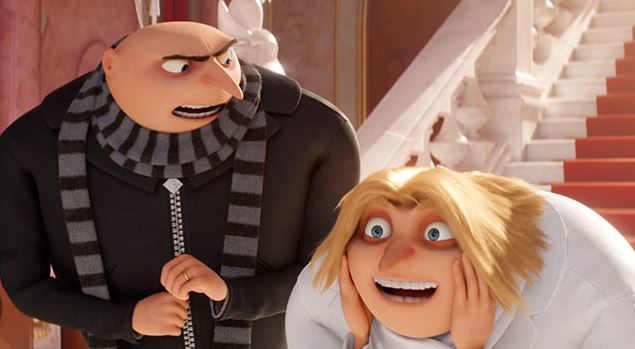 The thought of another Minions-packed film might have us parents running for the hills. Anyone who's been subjected to (tortured by) the Minions Banana song by their offspring will be nodding in agreement right now. It takes a strong stomach to take the kids to Despicable Me 3.
Fear not though: Film number 3 is far less about the little yellow babbling creatures and more about ex-villain Gru and his family connections and choices. This is both a plus and a minus for the franchise.
Bad-turned-good Gru (voiced by Steve Carrell) and wife Lucy (Kristen Wiig) have been fired from the Anti-Villain League (like the FBI) for reasons played out at the beginning. Meanwhile, the redundant Minions decide life with Gru is no longer fun and decide to go it alone. Wondering what to do next, Gru is contacted by his long-lost twin Dru (Carrell) who wants him to go back into the family business: villainy – something the latter needs help with. The plan is to steal a diamond that another baddie has locked away, 80s-loving supervillian Balthazar Bratt (Trey Parker). Can both brothers work together and resurrect the glory days?
Although writers Cinco Paul and Ken Daurio have wisely tried another way of injecting a new lease of life into the Despicable Me saga with the brothers' relationship and how that impacts on Gru's family, the original fans of the films – the youngsters – do begin to question when they'll be seeing more Minions action, which this film is light on. Granted, a prison break by the yellow menace satisfies for a short period, but any mini Minions nuts out there will be asking during the film when are their custard-coloured anti-heroes coming back onscreen next?
For the rest of us, there is enough to entertain you with, watching the family dynamics in play. Even though the makers have give adults a Minions respite by exploring this, the real fun comes from Bratt and his 80s obsessions, which allows those of us who remember those days first time around to indulge in 80s fever, bringing silly grins to faces at the campness of the decade and its fashions and music. It feels like a cheap laugh but it's gratefully accepted. The rest of the film flies around at its usual colourful pace, without much else standing out.
Despicable Me 3 feels like the 'third best' in the saga – in all fairness, it's just trying something new with the narrative and characters. If you like Gru and family then this will go down easily and effortlessly. If you actually 'like' Minions, you might be putting on a previous film when you get home to get your fill – as this reviewer did to placate a young (slightly disappointed) Minions fan.
3/5 stars
By @FilmGazer