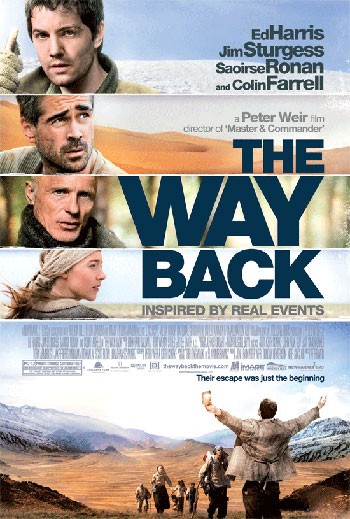 With highly respected film-maker Peter Weir (Master and Commander: The Far Side of the World) behind a new adventure, you know you are in for a visually stunning treat, born of meticulous planning and hard graft to get it factually right. The Way Back is no exception to the Weir catalogue of cinematic triumphs, a sumptuous film adaptation based on the equally fascinating true story of a 4,500-mile trek against nature's odds by seven escaped prisoners from Stalin's Siberian Gulag in 1940.
Weir spares no expense in the grand scheme of things, whilst managing to convey the intricate personal stories of all his characters, played by an intriguing variety of acting talent. Jim Sturgess is Janusz, a polish national who falls foul of Stalin's ideals, opposite Colin Farrell as the dangerous and blade-obsessed street criminal Valka. Ed Harris is American prisoner Mr. Smith, a man of few words, alongside the only female lead in the film, The Lovely Bones star Saoirse Ronan as runaway Polish orphan Irena. Harris and Ronan develop a convincingly tender father-daughter relationship, in the midst of the harshest of living conditions – both on and off set – that makes Weir's film even more compelling, as Irena unlocks each man's inner personality.
Indeed, the four leads deliver some exceptional performances, and some of the best of their respective careers, which is hardly surprising, given the rich subject matter and history at their disposal. In fact, this is an enlightening history lesson with lots of danger and action on its own about a period that's often overlooked in the classroom, in favour of Nazi domination in mainland Europe at the time. Therefore, it can be argued that it's hard to detract your feelings about the then-realities, from whether or not this is a good film.
As journeys on film go – and there haven't been many epic ones, the likes of Lawrence of Arabia or Out of Africa in decades, unless you count Australia by Weir's countryman Luhrmann, The Way Back is one that sounds incredulous, had it not been based on truth. This entanglement of truth and fiction shows the power of Weir's storytelling skill, as well as his commendable casting.
Admittedly, the lead performances are strong on their own, but are helped by an excellent supporting cast of foreign actors that provide some of the lighter moments in the film; Romanian Alexandru Potocean is wise-cracking accountant, Tomasz who likens eating snake to eating a "big black poisonous chicken with no legs". Weir nicely balances these very detailed human exchanges in the face of adversity with the wider ones, to avoid pretension and possible tedium. However, as with such a film, it does suffer from flatter moments, as you wait for the next thing thrown at the group, even with yet another breathtaking panoramic wide to feast on.
Weir fans will not be disappointed, though, and fans of the cast members will be equally impressed, too. This is solid, old-school epic film-making that is deeply affecting with its captivating human spirit, and makes for a welcome break from the incessant 3D out there.
3/5 stars
By L G-K