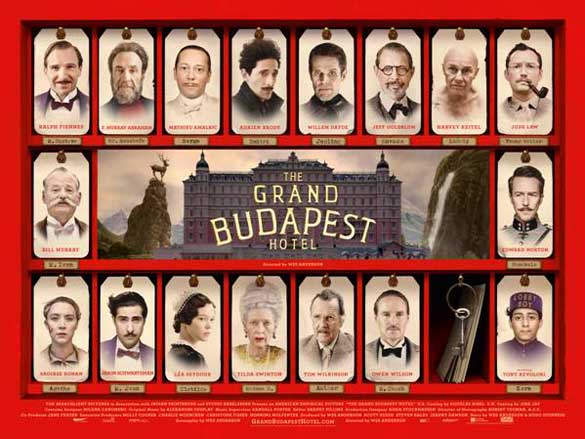 Director Wes Anderson's mind is a fascinating one, managing to engage us with imaginative characters and locations that have a warm but barmy feel to them. The Grand Budapest Hotel is no exception, as theatrical and slightly obsessive as his others, but charmingly told. Ralph Fiennes has morphed into many characters over the years, and his delightful turn as camp, legendary concierge, Gustave H is one of the most splendid in some time.
The story begins in the 'present day', where a young writer (Jude Law) visits the notorious European hotel and meets with the current proprietor, Mr Moustafa (F. Murray Abraham) to discuss how he came to be in such position. Jumping back in time, the story unfolds around about the time between the two World Wars, centring on Gustave H (Fiennes) and his flamboyant but attentive nature that won him many fans and lovers among his guests. One influential one is the neurotic, wealthy widow, Madame D. (Tilda Swinton), who he has a close relationship with.
At the same time, a new lobby boy starts, Zero Moustafa (Tony Revolori), who is put through his paces by Gustave but soon becomes his most trusted protégé and usual companion. After news of the sudden death of Madame D., Gustave and Zero set out to visit her home then hear the will read by her lawyer, Deputy Kovacs (Jeff Goldblum). The consequences of which set them on a perilous adventure that sees them entangle with the late Madame's hotheaded son, Dmitri (Adrien Brody), his henchman Jopling (Willem Dafoe), and police chief Henckels (Edward Norton). Meanwhile, a budding relationship begins between Zero and his sweetheart, patisserie girl Agatha (Saoirse Ronan).
The cast alone is a mightily impressive draw – as the trailer shows, but in Anderson's brilliant storytelling fashion, each character is not squandered but has its place and curious significance, like a well planned, well written fairytale; you never get to learn everything about each one but enough to make them individually intriguing. There is an eager pace too, that never tires, even when Gustave is sent down in midway through. Everything is precisely choreographed. An understated comic genius is the vein running right through, with a delivery like a latter-day Groucho Marx production. With this witty underpinning, all lurid subjects (sex, murder etc) are effortlessly dealt with, without losing their impact or shock value – it's a very clever balancing act. All in all, there are layers of fun to be had within exquisite design and palette.
The film flows beautifully, thanks to Fiennes as Gustave who is meticulous and as proud as his establishment. The wonder in watching Fiennes/Gustave is the gentile comments that are often fully loaded and his decorum that never slips in any provocative situation but also feels wreckless and almost self-deprecatory. This contradictory façade hides a very dark side that may just materialise at any moment, as well as an implied bisexuality. Anderson gives us a delicious, multifaceted character to indulge in while Fiennes proves how much of a natural he is at comedy.
Great comic support also comes in the shape of Swinton as haggard old dear Madame D. with OCD and a walnut-whip of a hairdo – as much a manipulator as Gustave. There is a sense that the only one without an agenda is stalwart Zero, exceptionally acted by feature-film newcomer Revolori. The actor must own a lot of the mise-en-scène close-ups without moving much of a facial muscle. Goldblum, Brody, Norton and Dafoe play panto parts that instinctively compliment the tale and its eccentricities. Anderson has coaxed the best out of his cast, including Ronan sporting a cool birthmark. There is a real sense of total belief in the success of the film from all involved. It combines, comedy, theatre, murder and mystery in one hoot of a time. It's an Anderson delicacy, much like the tale's baking, to taste and savour.
5/5 stars
By @FilmGazer