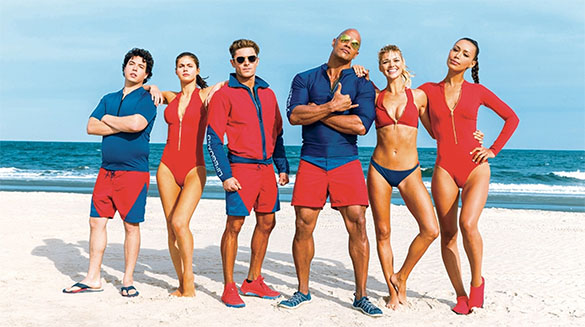 This could have been an expensive gamble that didn't pay off. Seth Gordon has guided the reboot of popular TV series Baywatch onto the big screen with expertise, making sure there are oodles of silliness, as well as buff bodies clad in red Lycra to enjoy. Position popular actor Dwayne 'The Rock' Johnson at the helm – who has proved his ease at moving between comedy, family and adventure films, and there is a recipe for success.
Johnson plays the iconic character, lifeguard Mitch Buchannon, brought to life on TV by David Hasselhoff (who makes a cameo in this). While butting heads with cocky new recruit Matt Brody, played by Zac Efron, who used to be an Olympic swimming champion, fallen on hard times due to booze, Buchannon uncovers a criminal plot headed by hotelier mogul Victoria Leeds (Priyanka Chopra) that threatens the future of the bay.
Never throughout its 116 minutes run-time does Baywatch ever drop its tongue-in-cheek stance and try to be anything more than a current send-up of the TV series. This is ALL about delivering fun, fun and more fun, along with plenty of action and undercurrents of serious social topics. Just take Jon Bass's Ronnie character's embarrassing 'entanglement' on a beach lounger, and how Buchannon and co deal with that particular 'rescue', and you get the gist. Think Judd Apatow does Baywatch in fact. Every scene mocks the pseudo seriousness of the TV drama, so it's a tonic to watch if you were a fan.
Johnson and Efron make a great team – alpha male verses alpha male, which, interestingly, turns into a father-son relationship of mutual appreciation. This is played below the radar as not to revert from the campness going on – no surprises there really. Of course the females play second fiddle to the male leads – as expected, but all characters are there to be ogled, precisely the incentive of the TV show. The girls just get to tease more in this. The fact the baddie is a femme fatale stereotype is nothing new either, but Chopra is a sultry delight in the role, like watching any Bond villain at play on a Baywatch set.
It's important to remember Baywatch is not out to smash stereotypes but embrace and mock them for pure pleasure. It's self-depreciating too, allowing anything to happen without judgment. Throw in some explosions (and fireworks), stunts and pecs and buts, plus a strong cast who deliver comedy effortlessly, and it's one of the best box office nights out on offer at present – something that surprised even this reviewer!
4/5 stars
By @FilmGazer