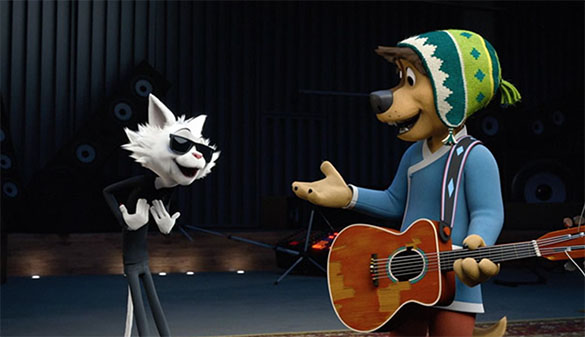 Another animation, another animated 'hero' full of good intentions, this time the moral in Rock Dog is: 'follow your dreams and don't let anyone deter you', with talking animals, akin to Zootropolis. It's not the latter though (unfairly judged against a larger studio release in some respects), but has its own indie charm, full of funny, cute moments. What is does have is a highly catchy theme tune in 'Glorious', which the kids were humming all the way out of the cinema and down the street afterwards. In that respect, it makes its mark through music.
After a radio falls from the sky, guitar-loving Tibetan Mastiff Bodi (voiced by Luke Wilson) hears rock music for the first time from 'superstar rocker' Angus Scattergood (voiced by Eddie Izzard), and realises his dream is to be a musician. That goes dead against what his father, guard dog Khampa (voiced by J.K. Simmons) wants for him – he ought to be guarding the sheep of the village against their ancient enemy, the wolves. Khampa reluctantly lets his son go to the big city to fulfill his dream – and maybe meet Scattergood in the flesh.
Rock Dog has some good-hearted, fun characters to ride along with, and a certain easy charm that makes it totally consumable. Although Bodi is the star and certainly resonates with the kids, Scattergood is for the adults. Izzard is hilarious as the cat 'music demi god' who finds most things in life tedious and has run out of inspiration. He is the epitome of 'Brit music cool' though and that alone is enough to make him a memorable character.
Indeed, the plot can be seem coming a mile off before the film has even started – we know Bodi will be successful, somehow. The film is about the journey he takes, with its quaint innocence from not only Bodi but also the sheep. It's also a refreshing take, set in the Tibetan hills, from the usual city affair, though it ends up in the Big Smoke.
The other thing is it is all good clean fun for a younger child to watch – even though it involves a rock star. Even the wolves are not too scary for youngsters (not jumping in mum/dad's lap this time), and are like poor imitations from a tame Guy Ritchie gangster flick (minus any swearing). Centre stage is given to the fledgling Bodi-Scattergood relationship, and the highs and lows of it. In that sense, kids get to see humility in the end, in addition to the rise to stardom.
Rock Dog has a lot of lessons for all viewers of all ages to learn from – after all, it's never too late for anyone to follow a dream. Some of the humour is a little slapstick and déjà vu, but utterly harmless, nevertheless. It will make you walk away with a smile and a hum, so that's not a bad thing.
3/5 stars
By @FilmGazer