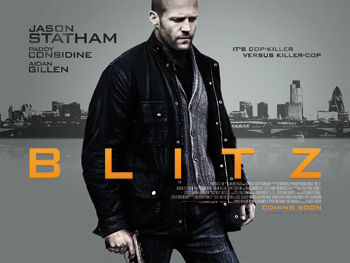 Ah, the gritty underbelly of South-East London, where every copper is as mean as Jason Statham, every traditional pub has a man with a dog (or two), and every corner has a loony lurking in its shadows. Nathan Parker's (Moon) adaptation of Ken Bruen's novel, Blitz, couldn't get more clichéd if it was a Guy Ritchie crime caper. Thankfully, there's no cringeworthy 'apples and pears' Mockney slang in this – apart from the odd Statham muttering, and the 'good' side of the law looks as much of a lost cause as the bad.
This time Statham stays on the 'right' side of the tracks, playing tough, alcohol-swigging, maverick copper and man's man, Detective Sergeant Tom Brant, who (surprise, surprise) doesn't play by the rules, but gets the job done – somehow. Losing the plot and having to deal with a colleague's grief and a change of top brass in gay boss, acting Detective Inspector Porter Nash (Paddy Considine), Brant has another woe thrown at him: A serial cop killer called 'the Blitz' (Aidan Gillen) is making his killing spree personal. Can Brant get his man by any means necessary? Or will the press in the shape of tabloid hack Harold Dunphy (David Morrissey) get in the way?
Blitz is basically 90+ minutes of 'bloody' good, gritty fun masking a familiar storyline, with a pounding soundtrack that, at times, threatens to blast the eardrums. It's Statham meets The Bill, meets Life on Mars, meets Death Wish, all cranked up with in-your-face attitude that makes no apologies for its content or dubious language. Statham provides the muscle and the non-nonsense set pieces he's famed for, which seem ever so slightly mismatched in a UK crime drama, but thrill you, nevertheless, that a 'Frank Martin' Transporter character is dealing with London's grubbier life. The clichéd parts seem to openly celebrate the chauvinistic, violence-loving, fast-car-driving shows and films of the 70s, even offering the obligatory, younger WPC 'floozy' with her shirt half unbuttoned, flirting outrageously with Brant in the office and calling him a technological dinosaur.
Statham growls and gets away with one un-PC line after another that has you smirking with glee, then thumps, jumps, pounds and crashes his way around London with all the grace of an angry rhinoceros; there is another Point Break-styled chase scene that's a poorer and short-lived version. His 'sidekick' Nash, played by Considine, satisfactorily compliments Brand's blunt personality, as the more thoughtful, cautious cop but equally as effective. It's the intriguing Statham-Nash chemistry that provides some of the better dialogue and pause-for-thought scenes in an emotionally-charged film.
Gillen deliciously camps it up as unhinged nutter Barry Weiss, aka the self-proclaimed Blitz, making him dangerously enticing and rather amusing – note Weiss's Facebook update request. Weiss ropes in porn-loving hack Dunphy, played by Morrissey who seems totally underused in this, and is merely the stereotypical, grubby hack, but in smarter clothing, that other characters get to bounce their best moments off. There's also a rather pointless tangent that only goes to highlight a previous drugs problem experienced by WPC Elizabeth Falls (Zawe Ashton), and to state 'nobody's perfect' – not even an officer of the law. Tell us something we don't know… Whether this has more significance in the book, it's hard to tell in Parker's working.
It's only after Blitz ends, and you've had your rough-and-ready Statham injection that the plot begins to appear a little flawed and incredulous. Granted, there are so many oddballs in London that pointing out distinctive characteristics of one could prove tricky, but surely someone must recognise Weiss? And topping a garish-shell-suit-wearing weirdo carrying £50,000 in a public toilet in a busy bar, taking the envelope of money, and having it submitted as a personal possession when brought in for questioning would be able to place Weiss at the scene of at least one murder – not necessarily the copper ones?
In fact, you get so engrossed by all the frills and hard-line antics that logic goes out the window, as you are kept thoroughly entertained. That said the film has some shockingly violent moments that, wisely, happen off camera (to get the imagination running in overdrive), such as the policeman hammer attack that changes the film's tone for a brief second to something more serious, only for it to be dragged back into comedy mode. These bizarre comedy snippets include the 'plus-sized' female dancers at a local club – perhaps there's a new fetish in town we didn't know about? These weird inserts do serve to give Blitz its quirky Brit eccentricity – just think London Boulevard, another Bruen work.  However, the Americanisms are mixed in – probably to secure US interest in the release, like private meetings in US-style diners, and a police funeral that has obvious similarities to countless US TV/film-portrayed ones.
Overall, a strong body of Brit talent makes sure nothing gets stale in Blitz, as does Elliott Lester's tight direction, and keeps proceedings pumping along and interesting. Statham shows no sign of putting his good/bad-boy image to rest, and DS Brant might just become another easy-on-the-eye, money-spinning character in a Bruen-created franchise, like Transporter, for the UK's leading muscle for hire.
3/5 stars
By @FilmGazer
To watch this video, you need the latest
Flash-Player
and active javascript in your browser.