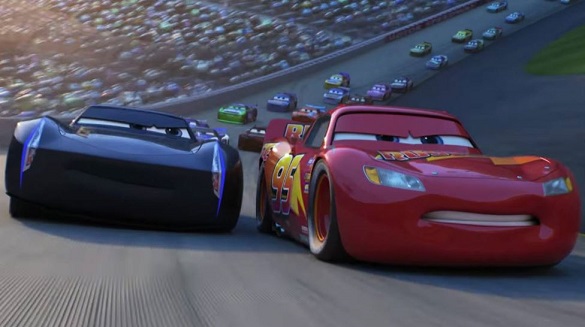 With Cars 1 and Cars 2 always on at some point at home (with our two kids), the prospect of a third outing is inevitable, kind of a pilgrimage that must be made (parents nods in unison). In fact, we have waited six years for the latest installment, after first encountering youthful, cocky racing legend Lightning McQueen getting lost in Radiator Falls off Route 66 in 2006.
What the third film, Cars 3, highlights is how quickly time passes – McQueen is now the geriatric motor like mentor Doc Hudson (voiced by the late Paul Newman) was, making you surprisingly reminisce on what a decade has brought you? It's this reflection that Cars 3 makers Disney Pixar want you to experience, using a cross-generational storyline.
After losing the latest speedway race to a new generation of race cars like suave winner Jackson Storm (voiced by Armie Hammer), Lightning McQueen (Owen Wilson back in the driving seat) sets out to prove he still has what it takes to win. However, his true direction is revealed after an unexpected off-track journey taken with trainer Cruz Ramirez (Cristela Alonzo).
The success (or failure) of Cars 3 really does depend on what you want from the film – and your dedication to the characters. The story has to progress – Lightning McQueen cannot race forever, as every sportsman knows too well. This is Disney too, so there has to be a happy, albeit poignant, family-friendly ending.
It's not so much the McQueen character progression here, but whether you want action scenes verses lovable character moments for committed fans. Indeed, those craving more Mater moments will be disappointed – the Doc gets more of an outing that the goofy tow truck whose quirky quips feel a little flat. The Radiator Springs bunch – much like the second film – gets driven out as the cheerleaders once more, like spectators to their own franchise. Dwell on the (mis)fortunes of the former characters, and you get a sense of great sadness that they are being resigned to the Disney store cupboard.
This film's hook relies on Lightning McQueen's interaction with the new characters. Here, the studio has gone with more 'girl power' with Cruz – remember Emily Mortimer's Holley Shiftwell spy car in the second film? Cruz is really peppy and great fun, but also self-doubting, which allows McQueen to give the pep talk and 'grow up'.
What film three lacks though, is an actual adventure that the second had and kept little ones really entertained by. Indeed, there is 'a journey' going on, but this self-discovery version begins to feel like it's wallowing at times, threatening to dislodge any little ones' interest. It's then you will the film to move on speedily to the next action scene to stop the inevitable "can we go now" line from being utter in the cinematic darkness. This happened three-quarters of the way through from a Cars-obsessed, 4.5-year-old – very telling indeed. Just be prepared.
As for action, the effects and graphics are superb especially the near-realistic mud pit in the 'demolition derby' race McQueen and Cruz compete in that feels like a bit of Radiator Springs nostalgia. However, it's the first-person gamer view of the speedway racing track that really wows and gets the juices going of any speed demon watching. This wizardry shows how far the franchise has come and Disney Pixar must be commended on.
Cars 3 does have 'something for everyone', which is why it's still proved so lucrative both in theatrical and home entertainment terms. This saga just forwards the narrative towards (maybe) a new fork in the Cars road map? One that doesn't necessarily say good-bye to Radiator Springs and Route 66, but could take another interesting path…
3/5 stars
By @FilmGazer