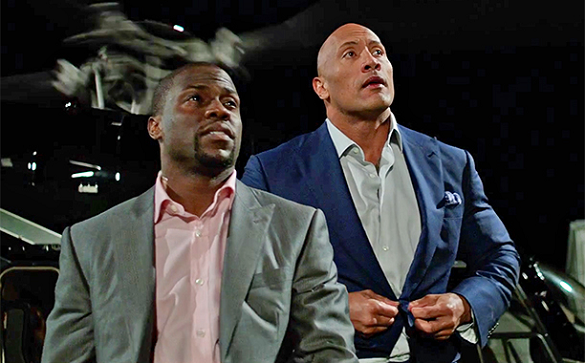 Proving bromances still have their own unique appeal is new comedy Central Intelligence. The key is getting the right pairing, which is why this one is an easy watch as it stars Dwayne 'The Rock' Johnson opposite Kevin Hart. Just as well the relationship is the central focus here as the narrative takes second place.
Overweight teen geek Bob Stone (Johnson) has never forgotten high-school athlete Calvin Joyner's (Hart) act of kindness after he was rudely 'exposed' in the school gym in front of all the pupils. Grown-up Calvin is now stuck in a rut in an accountancy firm, married to his high-school sweetheart Maggie (played by Danielle Nicolet), but missing his glory days as the school's most popular kid and likely to succeed – until Bob gets in touch via social media.
Stone is now a muscular CIA agent who needs Calvin's numerial skills to crack the mystery of who's compromising the US spy satellite system and trying to frame him for the murder of a former agent. Suddenly, Calvin's world gets turned upside down and a little exciting, and all before the high-school reunion.
The story's outcome is predictable – as is always the case where 'brothers' overcome adversity. However, it's the journey taken full of gags and scrapes that matters. Hart is his usual fast-talking self, but it's Johnson's admirable comedy skills that meet the diminutive comedian head on to keep the verbal game of ping-pong fresh and fluid.
In fact, Johnson moves smoothly between personas, from goofy old pal, to lethal killing machine, to marriage shrink madness. He seems to be in his element, combining the film typecasting he's known for (action figure) with the softer side he has adopted in his past family-centric films. Bob acts as a great catch-all role to watch Johnson thrive in for fans.
Hart thrills as Johnson's naive fall guy, complete with oodles of charm, and the joke is not lost on the size differences between the two, as they share the limelight. It also helps that both men have done action comedy and marry their own personalities to the roles.
Co-Writer-Director Rawson Marshall Thurber's comedy also taps into the screen popularity of high-school flicks, with reference to John Hughes' Sixteen Candles throughout. This stomping ground of personal development plus the great comedic timing give the otherwise thin plot a touch of depth. Just as well, as even though Amy Ryan lends her steely gaze and authority as agent-in-charge Pamela Harris in this, the action set-pieces seem sporadic and only there to serve as a gauge as to where the boys' relationship lies at any one point.
As with the reference to Eighties/Nineties high-school films, Breaking Bad fans will also get a gleeful nod from Aaron Paul as a CIA operative, while Jason Bateman brings on the delicious nasty in one defining scene for his character, bully Trevor. It is a comedy full of delightfully entertaining moments.
Central Intelligence plays by narrative numbers but has loads of Hart and Johnson to make it a bold choice for cinemagoers looking for a fun night out.
3/5 stars
By @FilmGazer