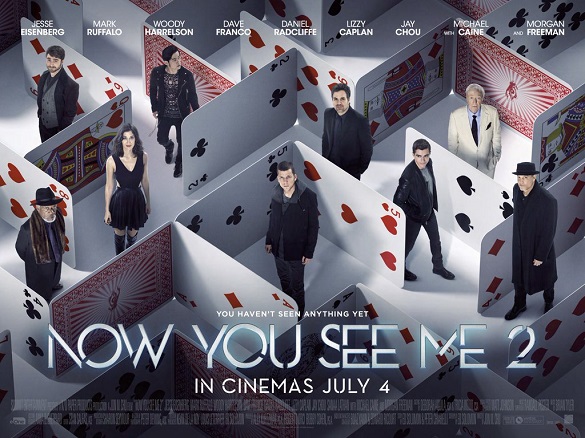 The Four Horsemen (rogue magicians/illusionists) are back – with Lizzy Caplan as Lula taking Amy Adams' position – to pull the wool over their latest victims' eyes (and ours). This second dazzling cinematic spectacle is directed by John M. Chu, full of confidence, charisma and style once more. However, Now You See Me 2 does get caught up in its own hype.
After being coaxed out of hiding, the wanted Four Horsemen are tricked into stealing a computer chip – the size of a playing card – or face their whereabouts being publicly exposed. They decide to turn the tables on their trickster while trying to avoid falling into the hands of the law. Can they clear their name while reveal who has set them up?
Watching the latest film is much like following a complex and stylish illusion at play, with a near consistent barrage of dialogue to sidetrack you and camera angles designed to avert your eyes where the makers need you to look. In this respect, it does take the magic out of portraying magic on screen, and in its place is a whirl of a ride full of stylish moves. Chu does not lose any of the energy of the first 2013 film though, as the plot has its own natural momentum as the tricks unfold.
However, a lot of the tricks outstay their welcome. As in one key scene, as much as watching a playing card being cleverly past between players is fascinating, you just want them to get to the punch line much quicker.
It's encouraging to see all the original cast returning though, all neatly slotting back into their places in the major con, and with Harrelson playing for double thrills, and Freeman getting to play a camp magician again with his own self-assured panache. Caplan is a nice addition to the team, holding her own among the boys, but gradually becoming annoying as the 'shouty new girl' constantly trying to fit in. The real scene stealer is Radcliffe as the crazed baddie. He is intriguing to watch in such a role and should do a lot more to permanently shake off the Potter mantle.
Now You See Me 2 is not a bad gig to attend, and even though there are new tricks to be thrilled by, it just doesn't have anything new up its sleeve, plot-wise. Short of a few revelations and old rogue faces popping up, the joke is still on us, the punter, as the stage setting – and disappearing act – feels much like watching the 2013 show.
3/5 stars
By @FilmGazer