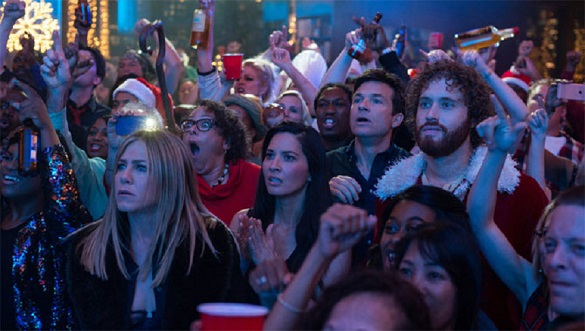 We all have them, some more eventful and memorable than others. This is just an excuse to showcase one of the wildest ones, surrounded by a film 'plot' about corporate meanness (festive redundancies etc) and Christmas spirit. Office Christmas Party has the staple offering of comic heavyweights Jennifer Aniston, Jason Bateman, Kate McKinnon and Rob Corddry who between them provide enough gurns and giggles to keep us entertained. Short of that there is nothing new to be had.
When uptight CEO sister Carol Vanstone (Aniston) threatens to shut down a failing branch of an IT firm that was run by her late father, her laid-back brother and party animal Clay (T.J. Miller in true 'bogus' hippie style) decides to throw the ultimate office Christmas party to woo a big client in town – and keep up his supposed office popularity.
Carol has forbidden any festivities, but Clay orders in excess. The night plays out well, until Sis gets wind of it and the VIP guest over-indulges. The party gets way out of hand, but in the haze of a hangover and complete destruction, a solution to all their problems arises, thanks to a little office camaraderie.
Aniston puts her best assets on show. Bateman is the reasonable man trying to resolve the situation. McKinnon channels her inner Ghostbuster eccentricity into a rigid façade crying out for release. And Corddry plays the angry man – again. So far, nothing is new.
The 'saviour' of the story is not Bateman as usual though, but the stunning Olivia Munn as programming whizz kid Tracey, fulfilling every geek's wet dream and proving that beauty, brains and a killer sense of humour can co-exist in one screen goddess. In fact, this is very much a tale of female dominance, which is surprising to admit (without getting any deeper either), considering the party depravity. It even includes an unhinged female pimp, played by Jillian Bell.
The plot really isn't up to much, so go along to Office Christmas Party with just that in mind – like being invited to the most outrageous do for 2016, without tasting a drop of beverage on offer. Every party has its characters, which fuel the memories – as this bunch do. Even though it will all be a haze in a month's time as to what actually happens here, there was less of a sore head after watching, and more a cracking good time had that you can walk away from, without much consequence.
3/5 stars
By @Filmgazer