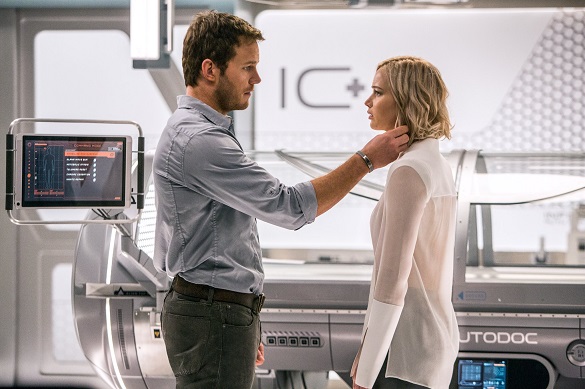 Described by some as a 'love story in space', director Morten Tyldum's new and hotly anticipated sci-fi action thriller Passengers throws up some interesting concepts at the start but falls short of further exploration. It is certainly slick to encounter and has a good chemistry in its leads, Jennifer Lawrence and Chris Pratt, considering the appalling circumstance they come to be known to each other.
When passenger Jim Preston's (Pratt) hibernation pod accidently opens 90 years too soon into a 120-year journey to another planet, he finds he is all alone on an auto-piloted ship. Panic turns to him making a life or death decision, and a romance with another passenger, Aurora (Lawrence). However, as the ship begins to malfunction and Jim's secret comes out, it is up to them to rally together and save the voyage, ship and the lives of thousands of passengers on board.
The concept of being lost in space is a ripe and creepy one that feeds on our fears and curiosity of the greater beyond 'up there'. Tyldum's story plays on this nicely from the start, with Pratt our competent leading man demonstrating how to kill time while trying to figure out how to survive his dilemma. It is his only real time to shine in the film as, as soon as Lawrence is awake, the focus is on her and her complete screen dominance.
Again, Passengers demonstrates that whatever Lawrence is in, she steers the project, with the camera loving her and her every move, completely casting a shadow over Pratt. Even Michael Sheen as android bartender Arthur – like some sci-fi The Shining extra – upstages Pratt in their scenes. This is no fault of latter, only we are supposed to empathise with Jim. However, as he does something so despicable – bordering on stalker-ish, it is very hard to. Hence, here lies the conundrum and an apparent plot weakness. That said, what Jim does do makes you question how you would react in the same situation, so in an unsettling sense, it is also thought-provoking.
As the action ramps up – and Laurence Fishburne makes a brief appearance to help in the salvation, the idea of trying to establish control over your situation is an intense one that propels the story forward. The credibility of proceedings does leave you frowning as to how two passengers with limited knowledge could save such a ship in the timeframe given and defy the laws of science. Therefore, there is a certain amount of suspension of disbelief involved to allow you to enjoy the action scenes.
Passengers has some great ideas to ponder over and a good-looking cast. The 'love story' is a little titillating to show off how fine the two leads are. However, it needed to get its facts a little straighter and pay more attention to its plot scenarios to truly propel it into the big league of sci-fi memorabilia, which is a shame as there is a lot to chew over in it.
3/5 stars
By @Filmgazer