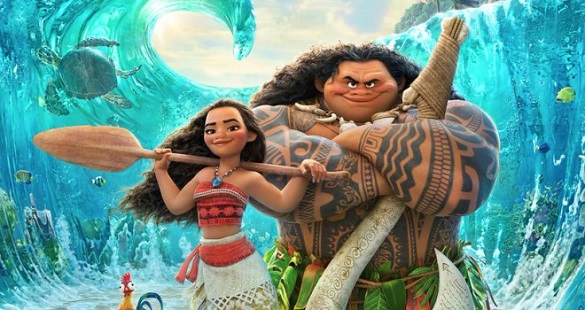 We are getting quite used to strong animated female leads, and Disney's latest hum-along entitled Moana – the name of the heroine in it – is no exception. She is headstrong, smart, courageous, adventurous and naturally, pretty. What makes her and her adventure more intriguing is the mythology surrounding the tale that anyone can enjoy, with songs that are emotive and toe-tappingly catchy, rather than pure schmaltz.
A terrible curse is triggered after a greedy Demigod called Maui (voiced by Dwayne Johnson) steals a precious stone, causing all islands in the region to slowly perish. When the curse finally reaches Moana (voice of Auli'i Cravalho), an impetuous Chieftain's daughter's island, she answers the ocean's call to seek out Maui and put things right.
Moana is a blaze of colour and a cool refreshing summer breeze on a chilly December day, with exotic island settings and characters that entertain all age groups. It also has enough subtle jokes for adults, rather than overkill of tedious 'nudge, nudge, wink, winks' that have to be explained in the darkness of a cinema as to why mummy or daddy is in a fit of giggles when something clearly unfunny has happened to small eyes.
Moana is also justified in her scolding nature at times, especially with the immature Maui, rather than damn right condescending like some other 'Disney princesses'. She is very practical and full of wanderlust, which is infectious – though Disney can't resist drumming home the 'listen to yourself and follow your dreams' mantra it survives on. Still, what's wrong with that?
Again, the 3D is irrelevant for kids too young to keep their glasses on. The magic is in the colourful storytelling, the mood-raising songs and the fun characters that all have their minute of fame and purpose. There is even a Bowie-esque number by a crab that thrills.
Moana merchandise is in the shops, ready for Christmas. However, this time, you don't resent the hard Disney sell as Moana is a role model any parent would actively encourage their offspring to have.
4/5 stars
By @Filmgazer