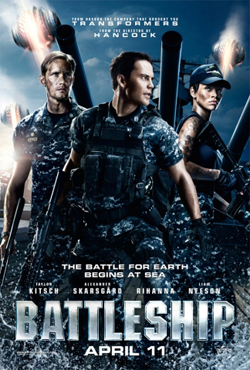 Love it or hate it; John Carter star Taylor Kitsch is here to stay, and even though his latest movie, Battleship, is monumentally moronic, there is still a huge amount of over-the-top, double entendre theatrics and bombastic action to giggle gleefully at. The added draw for some of director Peter Berg's (hopefully) satirical ode to all recent sci-fi action movies will be pop star Rihanna or perhaps True Blood's man mountain Alexander Skarsgård? Either way, Battleship goes forth with all guns blazin' to bring down an alien enemy and any shred of credibility.
The plot is a simple one: based on Hasbro's board game of the same name, Battleship sees US Navy brothers Stone (Skarsgård) and Alex (Kitsch) Hopper on exercise off the coast of Hawaii when a bunch of alien invaders fall to Earth – and into the ocean in front of them, causing an almighty battle of wits to commence. Meanwhile, hothead Alex's girlfriend Sam (former model Brooklyn Decker) – who happens to be the Admiral's (played by Liam Neeson) drop-dead gorgeous daughter – is helping a US Navy paraplegic physio patient climb a mountain that happens to hold the satellite dishes the aliens need to make contact with their planet to send reinforcements. Oh, and Pearl Harbour comes into the picture at some point, as does the USS Missouri…
Berg makes no apologies for the hilariously clichéd script and sci-fi rip-offs – and the Hasbro Toys brand benefits from more mileage out of the Transformers' replication. In fact, you could be forgiven for thinking that you've stumbled on Michael Bay's next robots film – minus Optimus Prime and Megatron – as there are some nifty metal carvers that make metal mincemeat out of anything that stands in their way. The same frenetic balls of edited colour and metal body parts litter the frame, and some of the near-death misses are utterly preposterous. But, this is full-throttle thrill-seeking destruction to gloriously behold, as well as a heavy dose of macho phallic symbolism and camp admiration for military might. It's all seriously daft fun.
The 'acting' in the loosest terms merely pays lip service to remind us that there are in fact humans involved among the carnage, and to clearly define the good guys verses 'the bad guys' (the aliens – who are out to rape our resources). One scene in particular that is the only true tension mounter is an actual game of Battleships between the Navy and the aliens. This allows us pause for breath to rally behind our odd collection of screen heroes that include Kitsch, Tadanobu Asano as a Japanese commander and RiRi as ball-busting Petty Officer Raikes – a mumbled feature debut, but one that has the singer looking mean in the firing hot seat. Kitsch demonstrates once more that he has got more than it takes to lead the folly in such a film and is a likeable action hero who ticks all the boxes.
Expect to be blindly entertained and thrown from pillar to post – thankfully, not while wearing 3D specs, plus don't take anything too literally. If you can suspend disbelief, you'll find Battleship simply tongue-in-cheek dumb, booming fun full of cum with some of the worst lines in recent screen history to relish that will have you cry, "no, seriously?"
3/5 stars
By @FilmGazer
Watch the trailer HERE