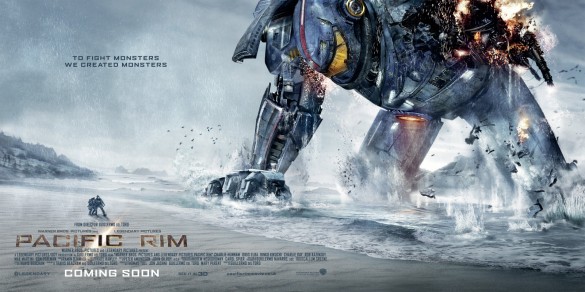 Guillermo del Toro gets the teen audience, totally, so much so, he's gone and taken a bunch of Transformer Power Rangers and pitched them against alien sea monsters of centuries old-looking. This less than perfect film offers loads of thumping good 3D action, which on occasion can feel relentless to anyone older than thirteen or to those who've had past problems distinguishing thrashing 3D Transformer body part from whirling body part. That said if pure entertainment is predominantly seeing Godzilla-like creatures tearing chunks out of man and his metal war machines then Pacific Rim portrays this with full watery throttle, throwing in subtle Blade Runner tones on urban dry land.
It's just a shame the rest is clunky, insincere and a little too clichéd, script-wise, that it prompts every next step for those 'hard of thinking', causing an occasional yawn in parts or inevitable disinterest in others. There is very little del Toro wonderment to this future apocalypse, unlike Pan's Labyrinth, or characters we really care about like in Hellboy, merely hard and fast blockbuster robot-monster action with some token human strife.
Humankind is seeing an increase in attacks from giant sea creatures called Kaiju who rise from the oceans to wipe out cities and populations. Even man's special weapons used to fight these aliens, face to face, a massive robot simultaneously controlled by two pilots called a Jaeger, seem to be loosing the battle as the Kaiju become wise to their every move. When the Jaegers are forced into retirement, leader of the fleet, Stacker Pentecost (Idris Elba) refuses to retire too, bringing his robots and a former pilot (Raleigh Becket played Charlie Hunnam) and a trainee (Mako Mori played by Rinko Kikuchi) back into action to control a Jaeger along with other pilots to save the world from oblivion.
Without a doubt, del Toro is spot on in creating a vast cinematic scale to portray man's imminent danger of extinction against a monster enemy. There is always a sense of being submerged and out of your depth when the Kaiju are around and that's thrilling. These awesome beasts with fluorescent innards certainly feed the imagination. However, very little else is known about them and what makes them tick, short of a flash through the mind of one, and a brief The Abyss-style finale of their world. Another story glitch is the idea that the Kaiju are clones – though all are different looking? This theory also doesn't add up when one is with child, raising an explosive but intriguing aspect of the story that lacks further insight that you might expect from del Toro's past work.
The human characters are mainly cheesy, cardboard clones of past sci-fi battle films. Little known Hunnam seems to resemble his other co-star pilots to the point of confusion at times, but all are pumped, attractive fodder for controlling the machines, though little empathy is built up around them to care about their individual plights. There is a window into Kikuchi's character Mako and her traumatic past, which is beautifully visualised, and del Toro tries to stimulate some mystique into the bond between Pentecost and her that is sadly is blatantly obvious to all. Even the screen presence that is Elba in his 'finest hour' giving booming rallying speeches fails to keep us more than interested in just the action alone, and the attempts to inject token emotion into his being fall short by the time the human story catches up.
Del Toro even tries for quirky eccentric types, too, to mix things up in his character list, with the kooky scientist stereotype in Charlie Day as Kaiju fan Dr. Newton Geiszler and Burn Gorman as eccentric Gottlieb. Both are comical to start off with then become increasingly irritating like excitable puppies and incoherent to care for their explanations. It all seems to rest on del Toro's Hellboy big name Ron Perlman (stay around for the end credits) who stars as a dodgy second-hand Kaiju parts dealer to come up with the goods for the human element. However, Perlman either has too little screen-time or not enough character development to save the story from being rather shallow on the human emotion front. The end result is a flat character array, so thankfully the fighting makes up for that.
Nevertheless, even the CGI confrontations can grow weary, as at lot are underwater shots that move side to side, having little effect in 3D because they are also blurry and darkly lit. The story is called into question again as previous, supposedly less threatening Kaiju are harder to tackle than the alleged 'super-sized' one at the end. Again, consistency is key, even with some impressive battles on offer.
Del Toro delivers some monster epic fighting on surface level, along with his calling cards such as the use of symbols, paternal influences and a subterranean chase scene. However, with many continuity errors, borrowed visuals from past sci-fi, fantasy films and limited character development, the overall conclusion is a less than satisfactory for a del Toro film, where the director appears to have fallen victim to the blockbuster hype.
3/5 stars
By @FilmGazer